Movers in Delta, BC
2080 Van Dyke Place
Richmond, BC
V6V 1X9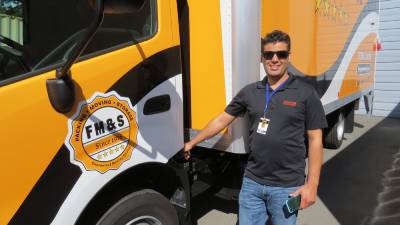 The Longest-Serving Movers in DELTA
If you're looking for a moving company that has been serving the Delta area for over a hundred years, Ferguson Moving and Storage is your best choice. We have multiple franchise locations to choose from in North Vancouver, Richmond, South Surrey/White Rock, and the Tri-Cities. We pride ourselves on delivering exceptional customer service that exceeds our clients' expectations.
Moreover, from the first day in business, Ferguson Moving and Storage has pulled our moving professionals from the lower mainland because they know the region better than anyone. They understand what our potential clients are looking for in a local moving company. Our expansive community roots give us an insight into what our customer's needs are, which is why we leverage a deep understanding of our customer base with every move we make.
Greg Amzil is the manager of our Delta, BC location and has been with Ferguson Moving and Storage. He knows the ins and outs of the moving business and is always looking to improve our services. He and his team of movers in Delta will take care of your belongings as if they were their own, and you can be sure that you'll get the best possible value for your moving budget.

Ferguson Moving and Storage is one of the most recognized and trusted moving companies in Delta. We've won numerous awards for our top-tier customer service, and our movers always go the extra mile to make sure your move is as stress-free as possible. For a list of our accolades and reviews, visit HomeStars.com . Give us a call today for a free moving estimate – we're sure you won't be disappointed!
The Only Decorated Moving Company in Delta
Looking for a reliable and experienced moving company in Delta? Ferguson Moving and Storage has been rated A+ by the Better Business Bureau for over 25 years for our transparent business practices, long-time history in the community, and positive customer feedback.
So, when you're ready to move, trust Ferguson Moving and Storage to get the job done right. Plus, we assure complete customer satisfaction with our 7 guarantees:
#1: Upfront, All-Inclusive Moving Quote
#2: Your Personal VIP Move Manager
#3: On-Time Arrival
#4: A Clean & Well-Maintained Truck
#5: A Certified, Professional Moving Team Leader
#6: In-Home Blanket Wrapping Of All Your Furniture
#7: Disassembly & Reassembly Of All Your Furniture That Needs It
For a free home-visit, please contact our move managers who will first understand your specific needs and then offer you a free on-site estimate. They'll also go over our whole service menu with you and explain all of the expenses, so there are no surprises on moving day. Plus, our estimates are itemized, so you know exactly what you're paying for.
Request a free quote online or call
1-833-WE-MOVE-YOU (936-6839) and experience Ferguson's award-winning customer service for yourself.
Quotes available for:
…and more!
Long Distance Moving Services in Delta
We at Ferguson Moving and Storage understand that moving isn't always a local event. That's why we offer long-distance moving services to folks in Delta and beyond. We have partnered with Great Canadian Van Lines to provide our customers with the best possible service, no matter how far they're moving.
We take the same care with long-distance moves that we do with local moves. You can count on us to pack your belongings securely and transport them safely to their new destination. Plus, we also offer logistical support and infrastructure through our partnership with Great Canadian. So, whether you're moving to Delta or leaving the region behind, Ferguson Moving and Storage can help make your move a success.
Heated Storage Container in Delta
Ferguson Moving and Storage offers an air-conditioned storage warehouse in Delta for your short-term or long-term needs. Our storage service is secure and climate-controlled to protect your belongings from damage. Home storage in Delta is available for every move or even independently as a short-term storage alternative without having to book for moving services. We even have a custom-built storage container that is perfect for your needs.
For more information, call us today at 1-833-WE-MOVE-YOU (936-6839). We would be happy to answer any of your questions.
Approximately 70% of Ferguson Moving and Storage customers are either returning or have been recommended to us by friends and family. Check out some of the great reviews they've left about our moving services in Delta!
The Advantage of Choosing Ferguson
We pride ourselves on being the most affordable and reliable moving company in town. We say this not only because it is true but also because we offer a service above and beyond what others can provide. This includes no hourly rates, so you are never surprised by how much the move costs in the end. It also means that our team is dedicated to making your move as stress-free as possible, from start to finish. We understand that moving can be a very stressful event, but with Ferguson Moving and Storage, you can relax and know that your belongings are in good hands.
Office Moving Services in Delta
Our commercial relocation services are designed to help your business relocate, no matter the size of your company or the scope of the move. We have extensive experience with office moves, large equipment hauling, and other non-residential moving services. We're proud to offer our exceptional service to businesses in Delta, Canada, and internationally. Plus, we understand that every business is unique, and we'll work with you to create a custom moving plan that meets your specific needs.
Delta is a municipality in British Columbia, Canada. Located south of Vancouver on the Fraser River, Delta is the largest municipality in the Greater Vancouver Regional District. It consists of three main islands: North Delta, Ladner and Tsawwassen. Delta has been ranked as one of the most livable places in North America. It comprises a variety of neighborhoods, including a historic district, a downtown area, and rural areas. Moreover, it has a variety of parks and green spaces, as well as numerous recreational facilities. Delta is also home to various businesses and industries, including agriculture, fishing, transportation, and manufacturing.
The economy of Delta is diverse, with a mix of agriculture, manufacturing, transportation and retail businesses. Delta's largest employer is the municipal government, followed by various industrial companies, including Canfor and Western Forest Products. Delta also has a significant tourism industry, with Ladner Village being a popular destination for weekend getaways from Vancouver. The other main attraction in Delta is the Tsawwassen Ferry Terminal, which connects the Lower Mainland to Vancouver Island and the Gulf Islands.
Delta is a great place to live, work and raise a family. The municipality has a strong commitment to creating and maintaining a high quality of life for its residents, with a wide range of services and amenities available. Plus, with its close proximity to Vancouver, Delta is an ideal location for those who want to enjoy the best of both worlds. If you're looking for an amazing community to call home, Delta is definitely worth considering.