Movers in South Vancouver, BC
2080 Van Dyke Place
Richmond, BC
V6V 1X9
Call: 1-833-WE-MOVE-YOU (936-6839)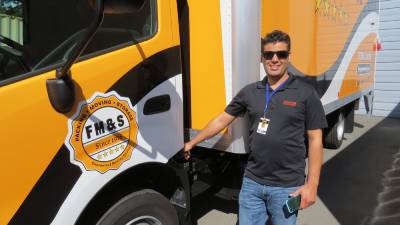 The Longest-Serving Movers in SOUTH VANCOUVER
Ferguson Moving and Storage is the longest-serving moving company in South Vancouver. We have a 100-year heritage in the area, and our reputation is built on customer satisfaction. We believe that every Ferguson Moving and Storage client deserves the red carpet treatment, so we always put the customer first. Whether you're moving across town or across the country, we're here to help.
Our workforce is lower mainland residents, which means that we have unparalleled local knowledge of the region. Our movers in South Vancouver are highly skilled and experienced professionals, and they're dedicated to making your move as smooth and stress-free as possible. We offer a wide range of services, including packing, loading, unloading, and storage, so that we can accommodate any need. We are the best movers in South Vancouver, and we're proud to offer our services to the community.
The manager of Ferguson Moving and Storage, Greg Amzil, knows the business inside out, and he's passionate about providing top-tier customer service. When you choose Ferguson Moving and Storage, you can be sure that you're getting the best possible moving experience. Moreover, our South Vancouver movers are highly-trained and experienced professionals that will take care of your belongings with extreme caution.

We are also the most decorated moving company in South Vancouver, with a long list of awards and accolades. Our clients have spoken, and we've won their trust time and time again. If you're looking for the best moving experience in South Vancouver, look no further than Ferguson Moving and Storage. You may even visit HomeStars.com to read our amazing reviews.
The Most Experience Moving Company in South Vancouver
Ferguson Moving and Storage is the most experienced moving company in South Vancouver. We have been serving the area for years, and our A+ rating from the Better Business Bureau speaks for our quality of service. It represented our transparent business practices, years of service to the community, and overwhelmingly positive client feedback. Our clients love us, and we guarantee that you will too.
We offer a complete peace of mind moving experience, backed by the following guarantees:
#1: Upfront, All-Inclusive Moving Quote
#2: Your Personal VIP Move Manager
#3: On-Time Arrival
#4: A Clean & Well-Maintained Truck
#5: A Certified, Professional Moving Team Leader
#6: In-Home Blanket Wrapping Of All Your Furniture
#7: Disassembly & Reassembly Of All Your Furniture That Needs It
You may call us for a free quote at 1-833-WE-MOVE-YOU (936-6839). Our move manager will come to your home and provide you with a full estimate, as well as answer any questions you may have about our service menu. We offer the following services – residential moves, local moves, international moves, commercial moves, and large item moves. We also offer household storage so that you can declutter your home before your move.
Request a free quote online or call
1-833-WE-MOVE-YOU (936-6839) and experience Ferguson's award-winning customer service for yourself.
Quotes available for:
Long -distance moves to and from South Vancouver
House moves
Apartment moves
Large item and piano moving
…and more!
Long Distance Moving Services in South Vancouver
Looking for a long-distance moving company in South Vancouver that you can trust? We have provided quality long-distance moving services in South Vancouver for years, and our experience is second to none. We work with trusted partners, Great Canadian Van Lines and Great Canadian, who cover logistics across the country, so you can rest assured that your move will be handled smoothly and efficiently. Plus, we are renowned for our customer service, so you can be sure that you will be taken care of every step of the way.
Heated Storage Container in South Vancouver
The storage warehouse at Ferguson Moving and Storage is temperature-controlled, meaning that your belongings will be protected from extreme weather conditions. Whether you're looking for long term storage or just a place to store your items for a short period, our heated storage container in South Vancouver is ideal. Our custom-built storage containers are clean, dry, and secure, so you can rest assured that your belongings will be safe while in storage.
If you have any questions about our storage services in South Vancouver, please don't hesitate to call us today at 1-833-WE-MOVE-YOU (936-6839). We would be happy to answer any of your questions.
Reviews on Our Moving Services in South Vancouver
Around 70% of Ferguson Moving and Storage customers have been recommended by friends and family or have returned as customers, which is why we take such pride in our moving services. Our reviews speak for themselves – read what people have had to say about their experience with our movers in South Vancouver.
The Advantage of Choosing Ferguson
At Ferguson Moving and Storage, we believe that you should never have to pay extra if your move takes longer than planned. Our rates are always inclusive, so there are no surprises when it comes time to pay your bill. Plus, our service is always top-notch, so you can rest assured that your belongings will be handled with care.
 You can expect guaranteed peace of mind throughout your entire move, from the planning stages to the final unpacking.
Office Moving Services in South Vancouver
Our office moving services are designed to help your business relocate with minimal disruption. We have a team of experienced professionals who will work with you to plan and execute your move, ensuring that everything goes smoothly. We provide heavy equipment hauling, packing and unpacking, office moves and other non-residential moves. We also have a wide range of storage solutions to choose from, so you can keep your belongings safe and secure until you're ready to take them home. Visit our office moves page to learn more about our services.
South Vancouver is a neighbourhood in Vancouver, British Columbia, Canada. It is located on the south side of the Fraser River and is considered to be a suburb of Vancouver. The neighbourhood of South Vancouver was first established in 1875 when it was known as "South Hill." The name was later changed to South Vancouver in 1887. Today, South Vancouver is a multicultural neighbourhood and a home to a large number of immigrants, particularly from Asia and the Middle East. South Vancouver is also home to many artists, musicians, and writers.
The population of South Vancouver is diverse and includes a mix of cultures and languages. The neighbourhood is home to many immigrants and refugees and is one of the most ethnically diverse neighbourhoods in Vancouver. There are also several parks and green spaces in South Vancouver, including the largest park in Vancouver, Queen Elizabeth Park. There are also many businesses and services located in South Vancouver, including restaurants, shops, and banks. The neighbourhood is also home to a number of schools, including elementary schools, high schools, and post-secondary institutions.
South Vancouver is a vibrant and growing neighbourhood and is a great place to live, work, and raise a family. The area has a lot to offer, including a diverse population, great parks and green spaces, and a variety of businesses and services. If you're looking for a great place to call home, South Vancouver is definitely worth considering.