CALL US TODAY
FOR A FREE QUOTE
604-670-2857
Richmond and Delta's Most Trusted Moving Company For Over 100 Years.
We LIFT Your Expectations!
You should never pay extra if your move takes longer than planned. With guaranteed flat-rate pricing, you don't need to worry about surprises like those hourly companies will charge. Guaranteed peace of mind before, during, and after your move.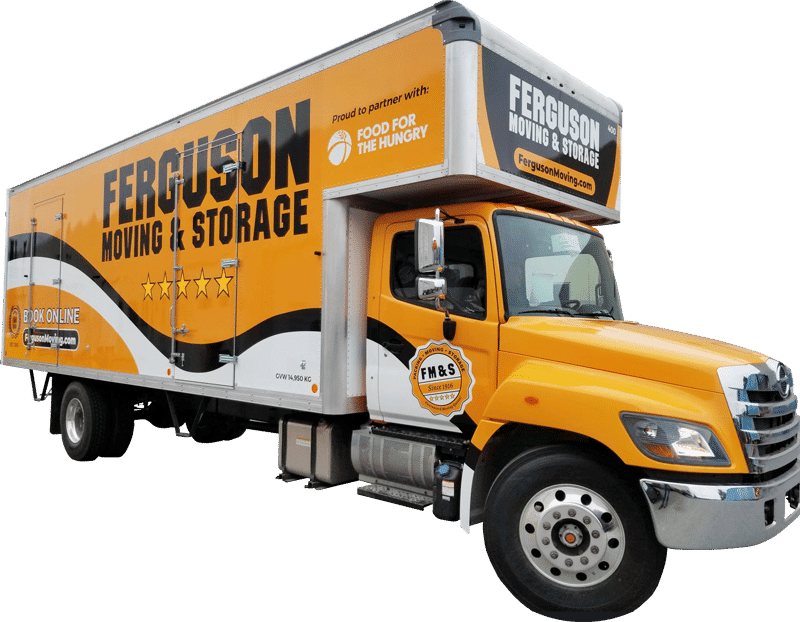 Ferguson Provides You:
Flat-Rate Estimates

Complimentary In-Person Assessments

New Virtual Assessment Options

Custom Move Plans

Dedicated VIP Move Managers

Experienced Movers

Professional Packers

In-Home Blanket Furniture Wrapping

"Red Carpet" Hallway & Stair Protection

Flexible Storage Solutions
Don't take our word for it – hear from our customers how Ferguson has made moving stress-free and seamless!
ASharma Rai Express Lines
⭐⭐⭐⭐⭐
Ferguson carried out our whole move very professionally and with the care we have never experienced. This was world class customer service. Quinn and his staff delivered beyond our expectation. Quinn always found a way to accommodate our needs because he understood our business and the short window for the move because we could not afford any business downtime. I can go on and on but this went above and beyond what we have experienced during any of our prior moves.
They are absolutely best at what they do - take care of your move from A to Z.
Roland
⭐⭐⭐⭐⭐
This was the second time with Ferguson Moving & Storage in as many weeks, both times went very smoothly and were stress-free experiences.
I recently worked with Sofiane and Lucas and their service was excellent. They were friendly, professional, efficient, easy to work with, careful with handling, and provided too-notch communication. Highly recommend this company and their fantastic team.
Alan Kuzma
⭐⭐⭐⭐⭐
We have used Ferguson Moving and Storage for our last five moves over 20 years. Each time has been absolutely amazing! We usually have them pack up and we unpack at the new place. We have never had a breakage or damage. The care that they take when removing furniture and items and in moving into the new place beats expectations. We will never use another mover. I strongly recommend Fergusons Moving.
Elaine Noble
⭐⭐⭐⭐⭐
This is the third time I have used Ferguson Moving & Storage. They care, they are on time, and have a lot of patience. They ask your opinion if anything is not obvious, such as furniture placement when you arrive . I have referred them and the people who have used them on my referral have been very satisfied with them also.
I will absolutely move with them again, based on the staff they employ. You could not find better movers, during this time which can be very stressful. There is only room for a 5 star rating but I would rate them 10 out of 10.
M Monahan
⭐⭐⭐⭐⭐
Sofiane, Tyson & Shawn did an absolutely amazing move for my mum, it went smoothly from start to finish. They were professional and handled everything with ease. Leaving her neighbourhood of over 50 years was not easy, but the conversation that they provided helped us through a day that would have otherwise been a lot harder. We would not hesitate to recommend Ferguson Moving & Storage - they are a fantastic company. Thank you so much!
SheldaLee
⭐⭐⭐⭐⭐
We just used Ferguson to move and it was a great experience. They were so fast and efficient and handled everything for me. Quinn was awesome and the movers were so good. We would highly recommend and definitely use again.
Catriona Strang
⭐⭐⭐⭐⭐
Fantastic service from start to finish. Quinn, who did my estimate, was super helpful, and the three movers who came on moving day, Geordie, Jeff, and Ted, were outstanding. Geordie even repaired some of my aging furniture for me! Absolutely outstanding.