Top-Rated Movers in Greater Vancouver, Victoria, and Edmonton
We
Lift

Your Expectations!
FREE MOVING QUOTE
No Credit Card Required
Canada's Most Trusted Movers For Over 100 Years.
Since 1916, Ferguson Moving & Storage has been helping people and businesses move efficiently from one location to another as seamless and stress-free as possible. We understand that this is not an easy task and takes a lot of time, effort, and planning. That is why we have a team of experienced and professional top-rated movers who are dedicated to making your move as smooth as possible. As one of the top-rated moving companies in Canada, we ensure that your belongings remain safe throughout the entire process and arrive at your new location without damage.
At Ferguson Moving & Storage, we strive to provide top-quality moving services to all of our customers. We provide a comprehensive range of moving services, including packing, loading, unloading, and transportation. We also offer storage solutions for those who need to store their belongings for a short or long time. Our experts will ensure that all your items are stored in a secure and climate-controlled environment. So, if you are looking for a reliable and professional moving company, look no further than Ferguson Moving & Storage! Our team of professional top-rated movers and packers will make your move as stress-free as possible, and we're always happy to answer any questions you may have. Give us a call today and let us help you make your move a success!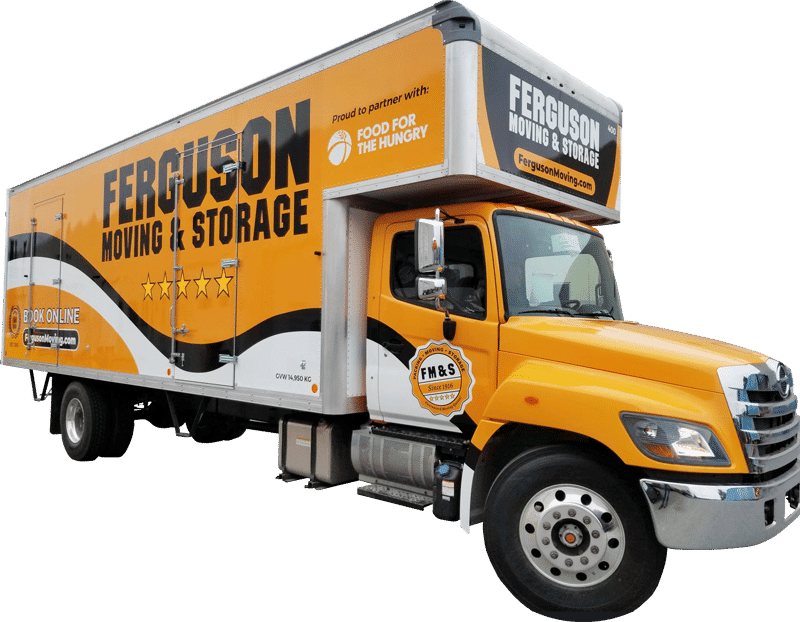 Local Movers
With the help of our top-rated movers, you can rest assured knowing your belongings are in safe hands. We offer service for all your moving needs, including residential and commercial relocations.

Long Distance Movers
Need to move out of the city or country? Our long-distance Move Coordinators can help you get there. We offer moving services anywhere across Canada, the USA, and beyond.

Office Movers
Moving an office is a big job. But with our professional commercial movers, we can get it done quickly and efficiently, so you can get back to business as usual.

Packing Services
Don't have the time or energy to pack up your belongings? Our team of professional packers can ensure that all your items are packed securely and ready for transport.

Moving Boxes
For all your moving and packing needs, we have a wide variety of boxes to choose from. We can provide all of the moving supplies you need to make sure your items stay safe in transit.

Storage Services
Whether you're moving to a new city or just need some extra space, our convenient storage solutions can help you out. We have different options to suit your needs and budget.
We LIFT Your Expectations!
Since 1916, Ferguson Moving and Storage has gone above and beyond conventional moving practices. After those first few years of business, the focus widened from warehouse-style storage to include moving services because the Ferguson family knew their approach was different.
Today, the driving force behind Ferguson Moving's concierge service is taking items off of the customer's to-do list. When you call for your free moving estimate, you will be asked more than where you're moving to. You can expect to speak candidly with move managers whose job it is to hear your needs and execute them all the way from the planning stages to the last wave goodbye from your new space. During your consultation, they can suggest additional services based on your needs and lifestyle, like a delivery of moving supplies in advance of moving day, container storage, or packing services on both ends of the journey. Visit Concierge Services to explore the ways that moving is easier with Ferguson.
For over one hundred years, Ferguson continues to LIFT expectations with industry-leading moving services. We strive to maintain that level of excellence and remain among the top-rated movers in Canada.
The Ferguson Move Advantage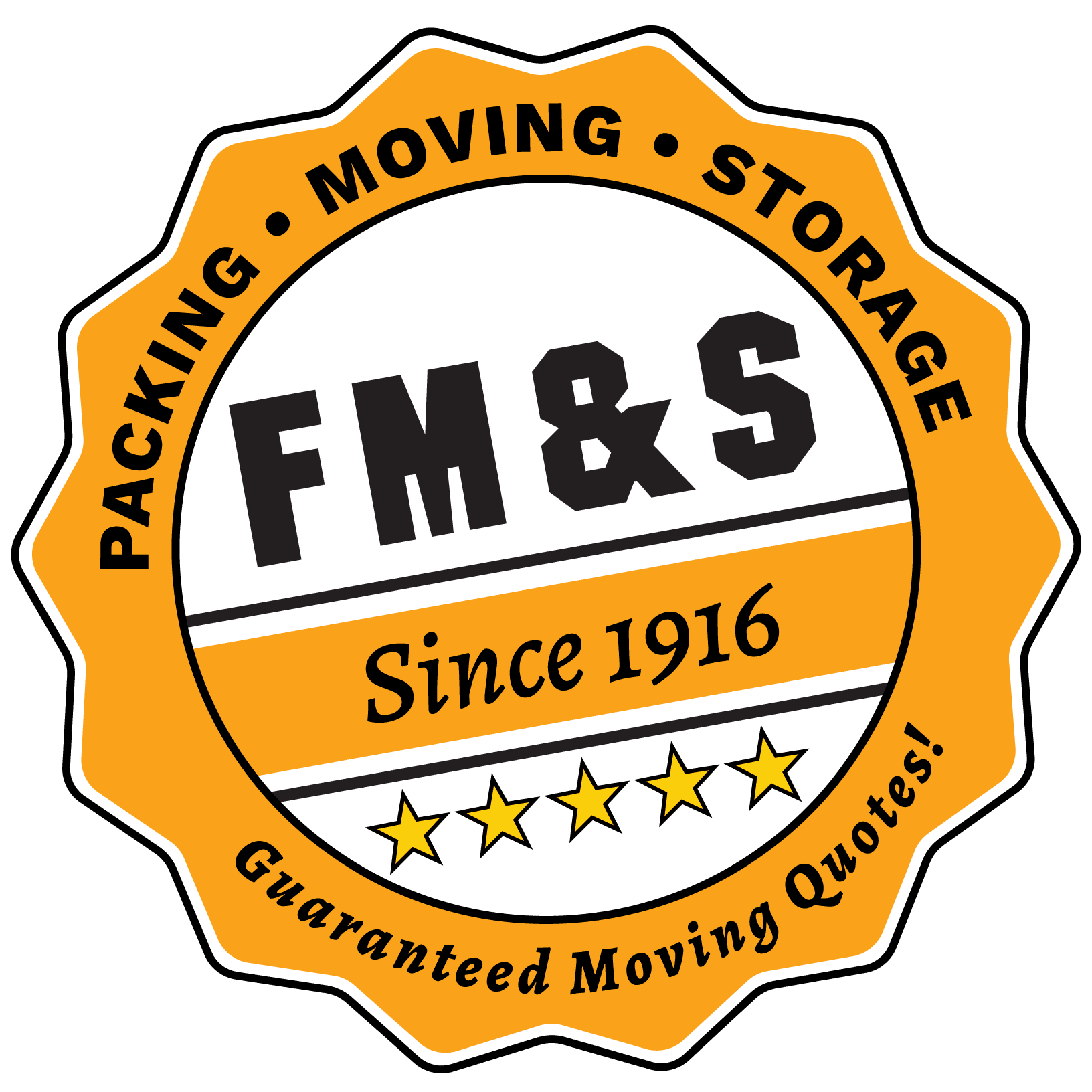 You should never pay extra if your move takes longer than planned. With no hourly rates and service that goes above and beyond, Ferguson lifts your expectations for what a moving company can do.
Guaranteed Up Front, All-Inclusive Moving Quote on Local Moves!
Why Choose Ferguson Moving & Storage?
Discover why Ferguson Moving & Storage are top-rated movers. View our service brochure for more valuable information.
Here are 7 valuable tips to ensure a seamless transition when moving your office or commercial space:
read more
Client Testimonials
Don't take our word for it – hear from your neighbours why we are top-rated movers!
Marga Lopez

Ferguson Moving is not a cheap moving company, but it is worth every penny! The team that helped us moved where on top of everything. They came early and prepared. They were courteous, cautious, amicable, and they work hard for you.
Our move went without a glitch, all our furniture and belongings made it in one piece. The administration team helped us figure out the street parking permits so we had the parking spot in front of our building ready on the day.
Moving is already stressful and a lot of work. Invest in a good moving company and save yourself a lot of headaches. I would recommend Ferguson to anyone looking for a reputable, responsive and professional experience. 10/10
Stephen Sisk

Was moving from a 2 bed,2 bath large condo to a postage stamp sized apartment that you would have to go outside to change your mind yet they somehow managed to fit it all in, yet still left it so that we could navigate through the boxes.
Polite in the face of some unusual challenges.
I would recommend them to anyone!
Clay Kensley

Jeff and his associates were great. They moved us into our new place and were on time, very professional, very efficient. We have used Ferguson Moving & Storage in the past and each time they performed beyond our expectations.
Don and Katie Ekroth

We recently moved from North Vancouver to Kamloops. The Ferguson's crew (Sosiane, Thomas and Peadar) were on time and courteous. They came to our condo on the 4th floor, carefully and efficiently packed our fine china, TV's and framed pictures.
All the major furniture items were wrapped and taped to prevent damage. Our china cabinet has glass doors and shelves. They took great care with it and all its contents.
They were "elevator courteous", much to the delight of the other residents of our building, I'm sure, as tying up the only elevator in a 40-unit building can cause untold problems if not thought out.
The offloading in Kamloops went just as smoothly. Care was taken at every step and our possessions arrived in good condition.
My wife and I would not hesitate in recommending Ferguson's Moving to any of our friends.
James Chapman

Ferguson provided outstanding professional help for our technically challenging internal move of multiple large appliance in our small home in Burnaby. We were grateful for the Team's in advance assessment and careful handling on the day of the move. It created confidence and was stress free.
Jim Marshall

Team showed up right on time, were polite, tidy and very professional, and finished well ahead of schedule on both the pack and the move. I would highly recommend Ferguson Moving.
John Barton

Had a really great move recently. The account manage Juville was excellent in describing the appropriate services and providing a quotation immediately. Made all the arrangements and everything was done in a timely and professional way. The crew of 4 people were friendly and anxious to ensure everything was being done to our satisfaction. All furniture was carefully wrapped and no damage incurred. Would recommend them in a heart beat to anyone wanting a quality move.
How Long Will My Move Take?
The time period required for your move depends on a few factors, such as the size and distance of your move, the number of possessions you have, and our availability during the period in which you need to move.
How Will You Handle My Items?
We take great care of your items and handle them with the utmost care and caution. You can rest assured that your items will be in good hands when you entrust them to us.
What Is Your Cancellation Policy?
Our cancellation policy differs based on the service and package you have booked. For more information, please get in touch with our customer service, and we will be happy to assist you.
How Long Have You Been in Business?
We have been in the moving business since 1916, and we have been able to grow our business by offering the highest quality services at the most affordable rates. Ferguson Moving and Storage is a family-owned and operated company, and we have been able to build on this tradition of excellence by hiring only the best movers in the industry.