AWARD WINNING & HIGHLY REVIEWED
#1

Moving and Storage Company in

Victoria

& Southern

Vancouver Island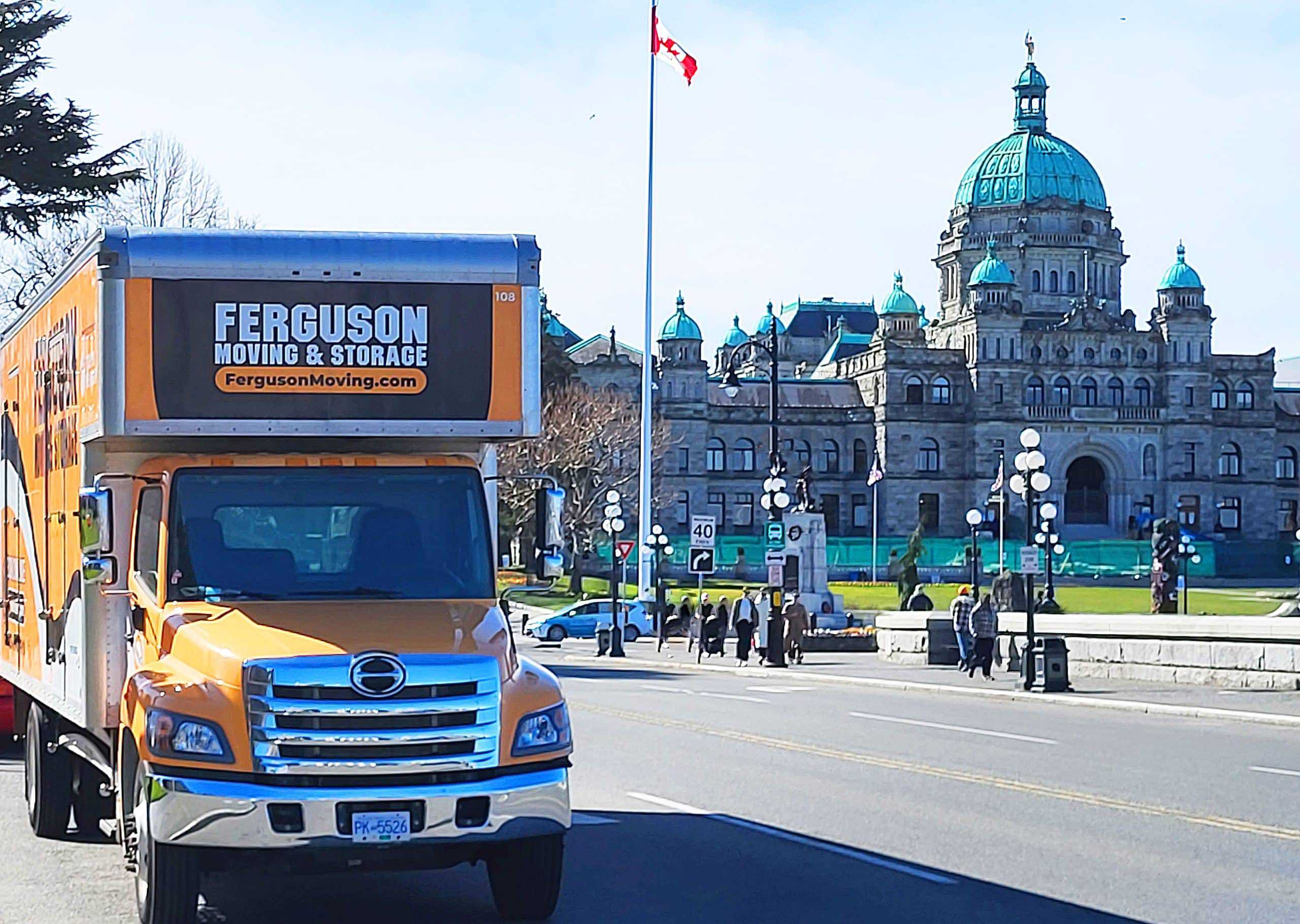 Ferguson Moving & Storage has been operating for over a century, and over those past hundred years we have become expert Vancouver Island movers. Whether you are moving down the street or across to the mainland, Ferguson Moving & Storage can help. Our legendary reputation for quality and excellence is based on our experience and the high standards we maintain. Plus, our exceptional customer service history means that you will be comfortable throughout the entire move process. If you are looking for the best Victoria movers, Ferguson is the only choice.
Locally Owned and Operated in Victoria, BC
The
Most Trusted

Victoria Movers For Over 100 Years
Ferguson Moving & Storage prides itself on our 7 Guarantees. This is what we promise when you arrange a move with us. Whether you are needing packing, storage or moving, we guarantee:
#1: Upfront, All-Inclusive Moving Quote
#2: Your Personal VIP Move Manager
#3: On-Time Arrival
#4: A Clean & Well-Maintained Truck
#5: A Certified, Professional Moving Team Leader
#6: In-Home Blanket Wrapping Of All Your Furniture
#7: Disassembly & Reassembly Of All Your Furniture That Needs It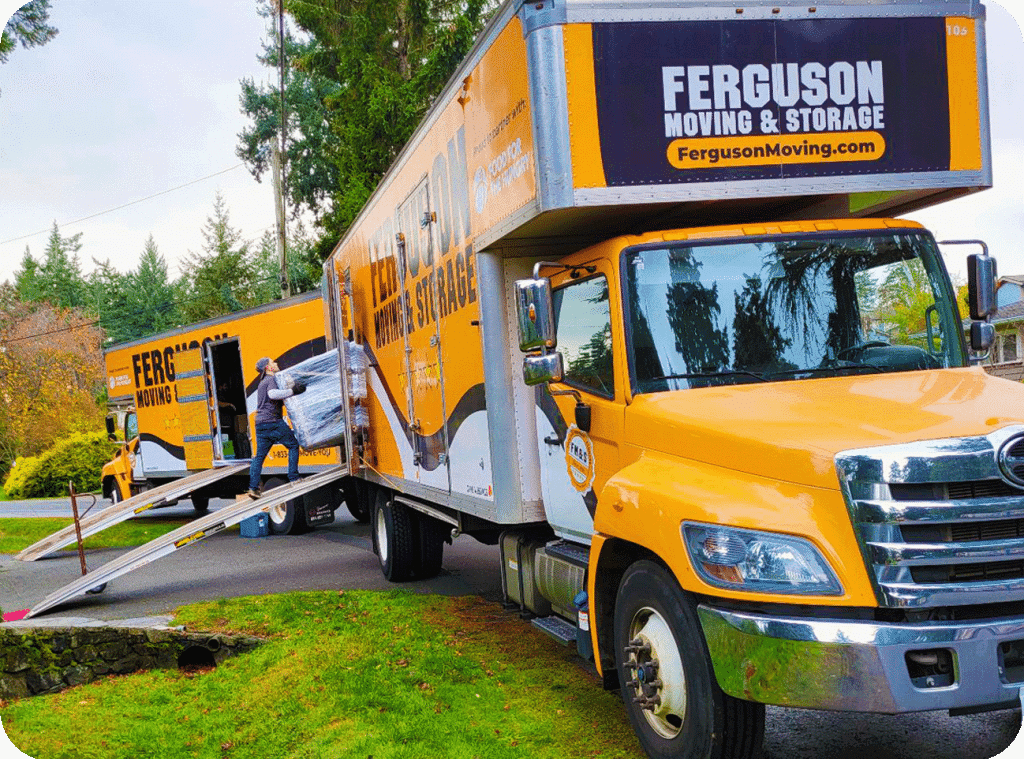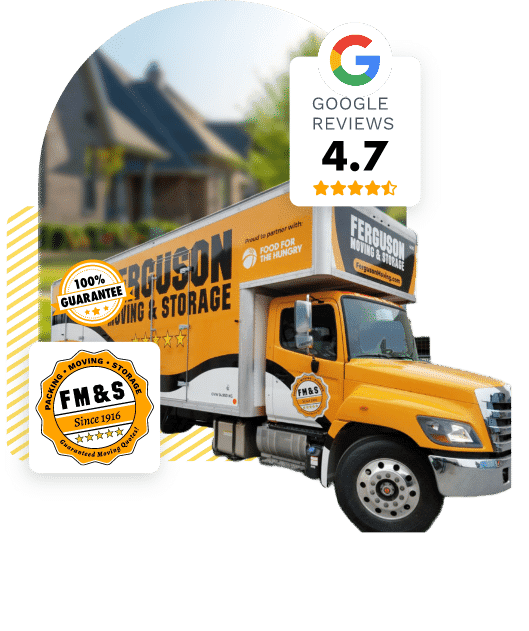 Experience Ferguson's award-winning customer service for yourself.
Long Distance Moving on
Vancouver Island
We go cross-country with the same level of professionalism and attention to detail as we do locally. Whether you're relocating to Vancouver Island or leaving the area, you can count on the Ferguson Moving team's complete assistance throughout your move. We understand that every client's needs are different, so we work closely with you to create a plan that meets your specific requirements.
We have teamed up with Great Canadian Van Lines for long-distance moves. In addition to the great service that comes standard with long-distance movers, you'll benefit from Great Canadian's logistical support and infrastructure. It means you'll enjoy all the benefits of the team, with the added peace of mind that comes with knowing your belongings are in good hands. It's a match made in heaven!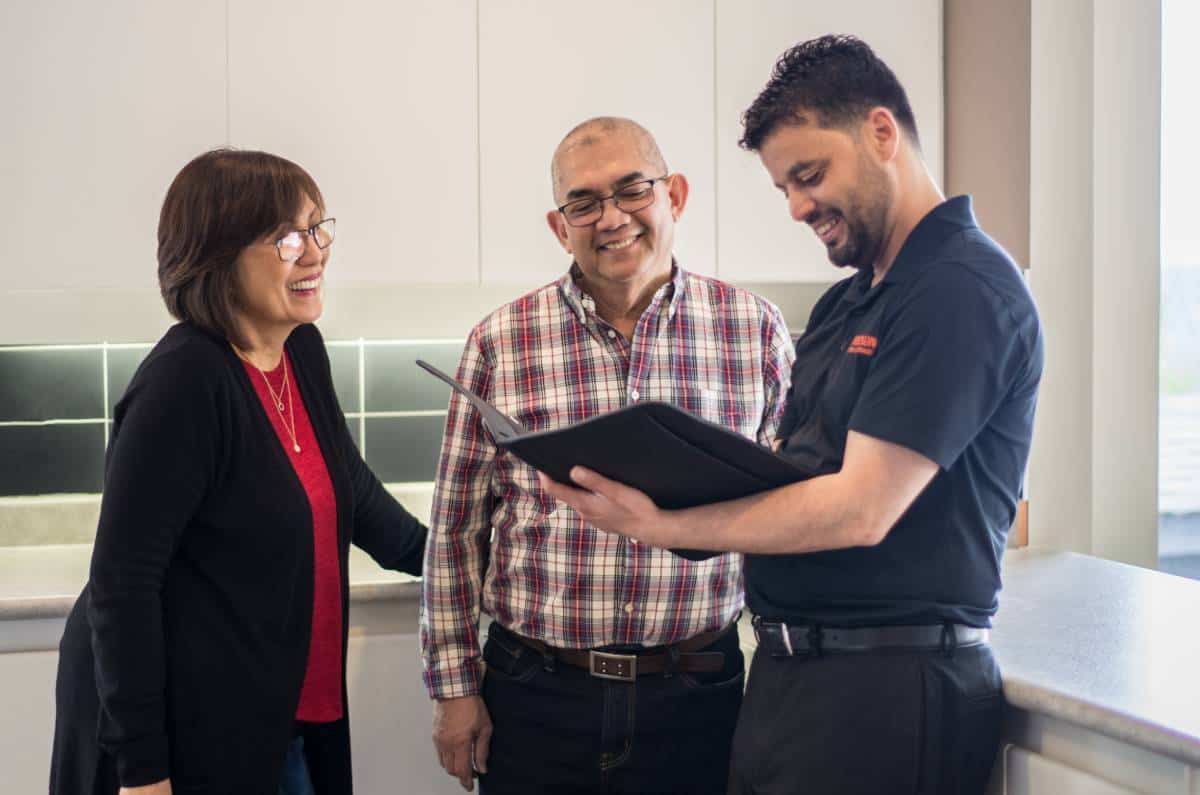 Climate-Controlled

Container Storage in Langford
Ferguson Moving & Storage's storage warehouse is situated in Langford. We are ready to pack, store, and deliver your belongings with precision and care. Whether you are looking for short-term storage or longer we are flexible with your dates. To learn more about Ferguson's storage service, call 1-833-WE-MOVE-YOU (936-6839).
See Why Clients
Love

Ferguson
Terry Ratcliffe
2023-11-14
The crew were very good, competent and respective of everything. A good, nice move!
Christine Robertson
2023-11-09
Arrived on time. Very professional. Great move. Finished within estimate time.
Denise Finamore
2023-11-08
Ivan and Jamal were great!
Liezl Vander Woude
2023-11-08
After a fire in our shop on Main Street, Vancouver, these guys were a godsend. They were quick to respond with a crew of 5 men who followed instructions, asked intelligent questions (instead of just blindly getting the job done), were polite, professional and efficient. I can't believe the soggy mess of the morning became an organized collection of boxed, labeled and delivered, salvaged items in storage on the same day. Highly recommend.
Christina Rowntree
2023-11-08
Our moving day was handled beautifully by Quinn. He thought of every detail ahead of time so there were no surprises. All of my items were handled with care by the first class moving team. They were fast, efficient and kind. I highly recommend Ferguson movers.
Sofiane, Ivan, and Lucas were incredibly professional. They showed up on time, had great manners and lifted my very heavy and very fragile furniture flawlessly. Not a single moment of doubt, excellent experience all around using Ferguson moving!
Thomas MacInnes
2023-11-04
Ivan and Matt, helped us with our office move today. They wrapped all of our office furniture like presents with padded moving blankets. They took extra care with all of our items and finished all the work quickly and efficiently. I'd definitely recommend Fergusons, for anyone looking to move offices.
Kathini Cameron
2023-11-04
I booked a fully packed move from my condo to a riverside cabin. The team were superb! They had to deal with stairs in the condo and then waiting around for the property sale to go through. Not a single grumble or complaint from any of the guys. Nothing was too much trouble! Thanks for getting us set up in our new home. Five stars!
More Reasons
We're the Best
Victoria Movers
Local Expertise
Benefit from our in-depth understanding of Victoria. We're not just a moving and storage company; we're your neighbors, familiar with the local nuances and best practices for smooth relocations.
Custom Solutions
We know that every move is different. That's why we tailor our services to meet your specific requirements. Whether you're moving within Victoria or across the country, we offer flexible solutions to fit your needs.
Customer-Centric Service
Our customer-centric approach means we understand that no two moves are the same. We offer personalized solutions to ensure your specific needs are met, making your Victoria move stress-free and efficient.
Safety and Security
Security is paramount. Our state-of-the-art facilities and safety protocols ensure your possessions are protected throughout the moving and storage process. Rest easy knowing your items are in good hands.
Outstanding Reputation
Our track record of excellence and customer satisfaction in Victoria speaks for itself. Join the many satisfied residents who have chosen us as their preferred moving and storage company in this beautiful region.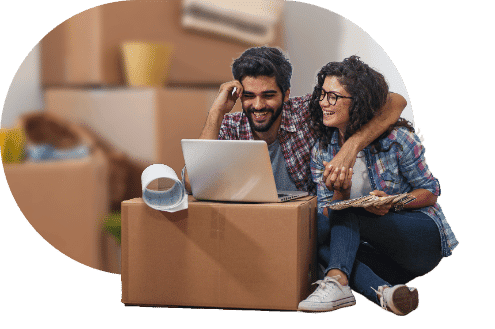 We make moves easy for you.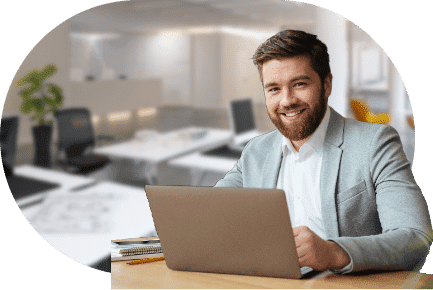 We are your reliable moving partner.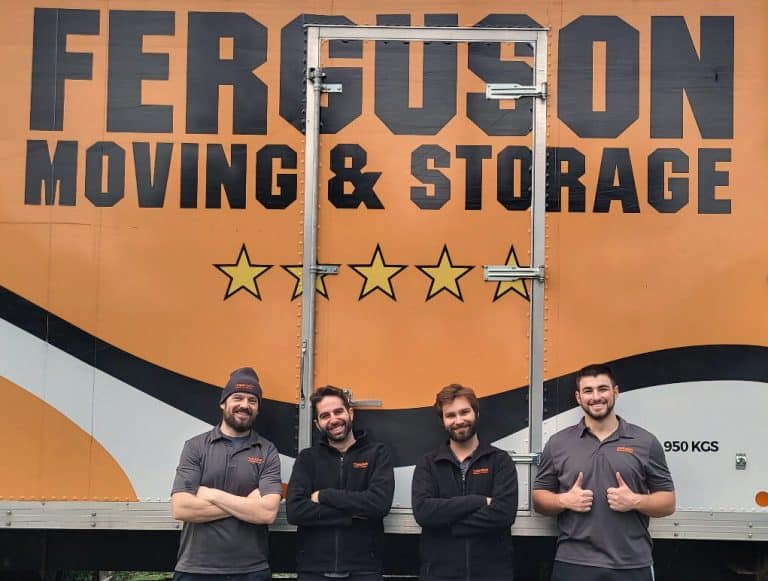 Ferguson Moving & Storage is one of the most decorated Victoria moving companies, having won numerous accolades for our industry-leading customer service and making us widely regarded as the very best Victoria movers. We LIFT your expectations!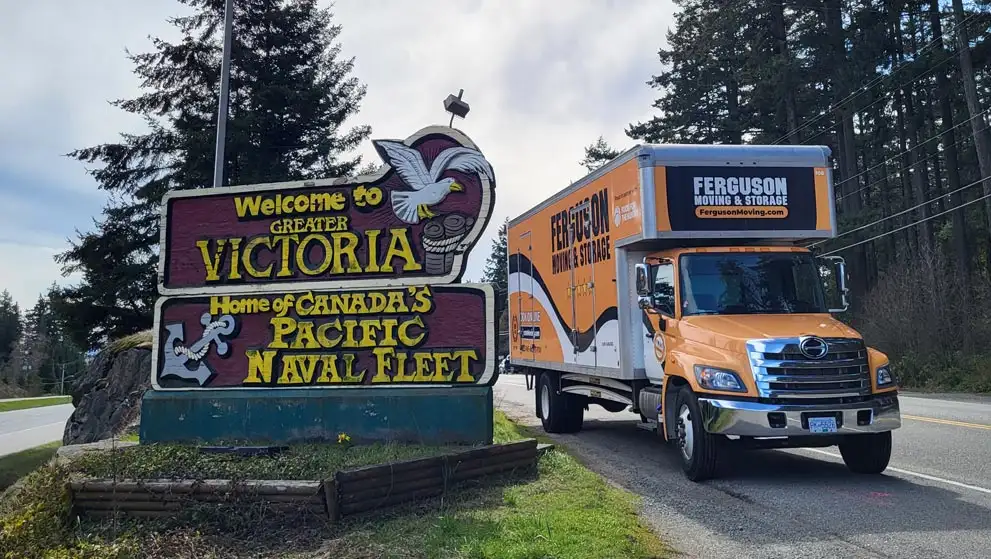 The charming capital city of British Columbia, Canada. Situated on the southern tip of Vancouver Island, Victoria is known for its rich history, stunning natural beauty, and vibrant cultural scene.
Victoria's picturesque Inner Harbour serves as a focal point, with its iconic Parliament Buildings, historic Fairmont Empress Hotel, and bustling waterfront. Explore the charming streets lined with boutique shops, art galleries, and enticing restaurants.
With its mild climate, welcoming community, and a myriad of attractions, Victoria is a delightful destination for residents and visitors alike. Experience the charm and elegance of this coastal city, where old-world sophistication meets natural beauty.