AWARD WINNING & HIGHLY REVIEWED
At Ferguson Moving & Storage, we continue to be the most trusted local movers in Canada for over 100 years. Since 1916, we have set the standard for 5-star service in the local residential moving industry, and we strive to continue that tradition. At Ferguson, we LIFT your expectations!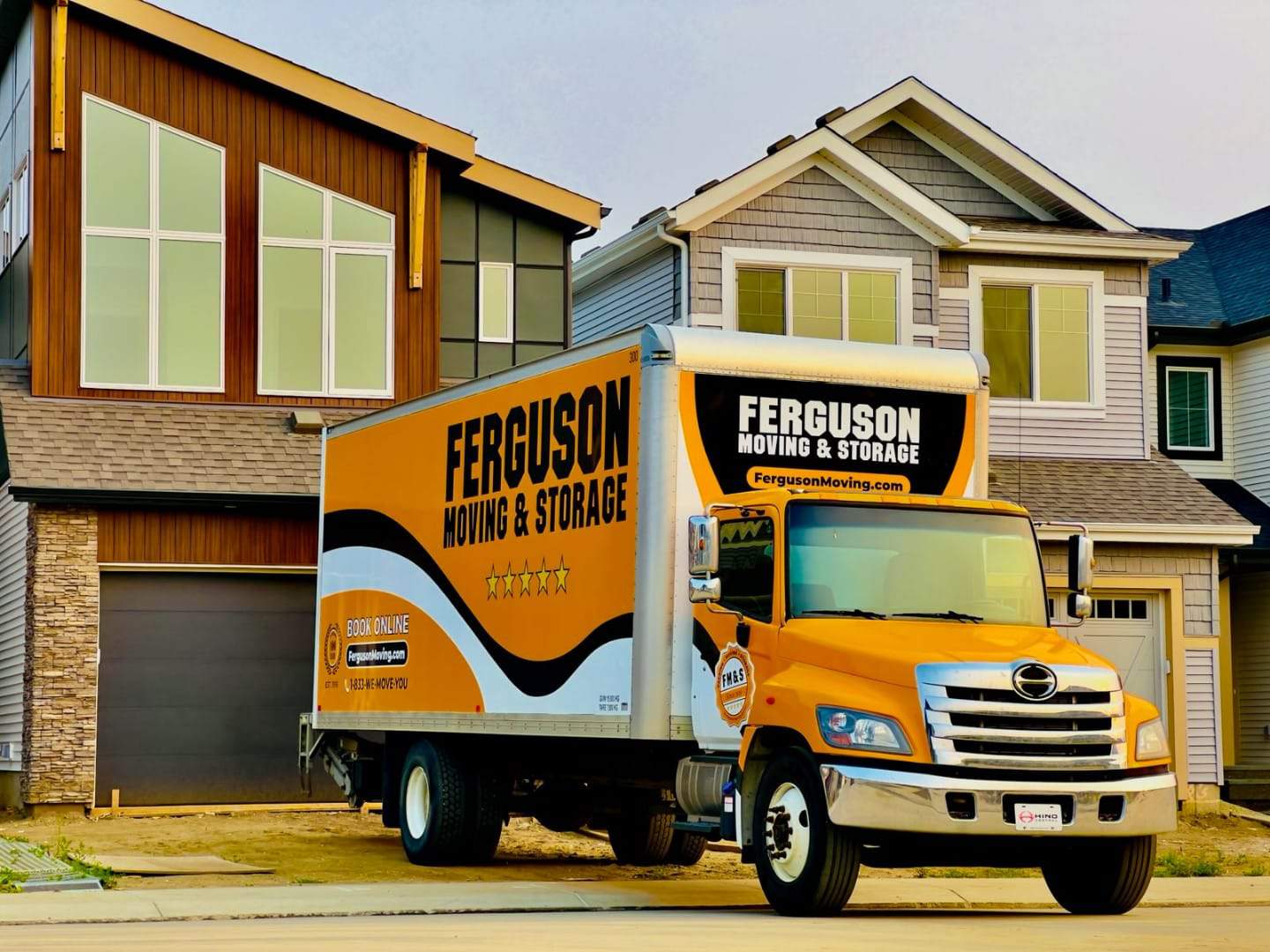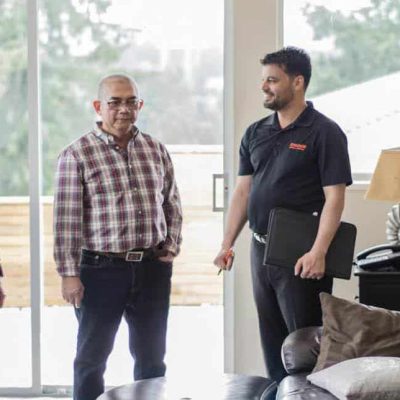 Certified Professional Moving Team Leaders
At Fergsuon, we take pride in our team. We select only the best local movers, so you can be 100% confident that only professional, clean and uniformed staff set foot in your home. Everyone must pass our certification program, in order to ensure they are trained to provide the high level of quality we require.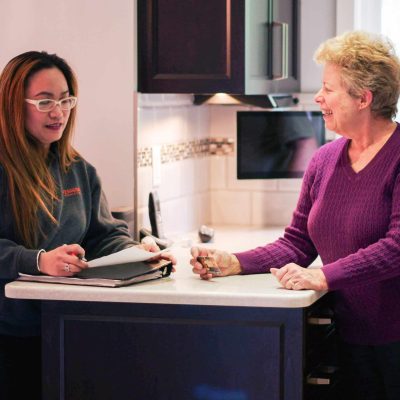 Dedicated VIP Move Managers
This is a complimentary service we provide to all of our clients in order to ensure you have the best possible moving experience. Your personal experienced VIP Move Manager will answer all of your questions and be directly available to you as your single point of contact at Ferguson Moving & Storage. We take the stress out of planning your local move and give you the VIP treatment you deserve.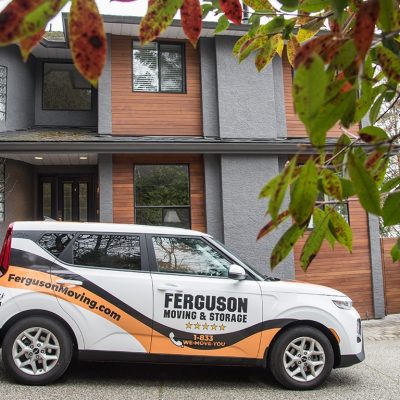 Local Move Experts
We have teams and locations across the country, so we are set up to service your area. Our local move experts will assess your unique situation and provide valuable guidance based on years of experience. We will create a custom move plan to take care of all your local moving needs.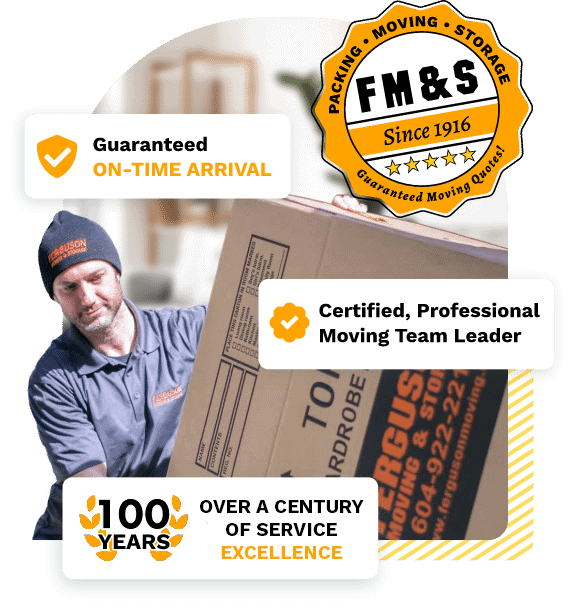 Your
7 PEACE-OF-MIND

Gurantees
You should never pay extra if your move takes longer than planned. With no hourly rates and service that goes above and beyond, Ferguson lifts your expectations for what a moving company can do.
Upfront, All-Inclusive Moving Quote. Virtual Assessments Now Available!
With Ferguson there are NO costly surprises on moving day.  What we quoted is what we charge – we guarantee it! And the reason we can do that is we first come to your home and see exactly what you need to move. We learn about the site conditions and concerns and then we give you a solid quote in writing. No surcharges, no "guesstimates", and no hidden fees. With our full transparent pricing, you pay what we quoted, guaranteed.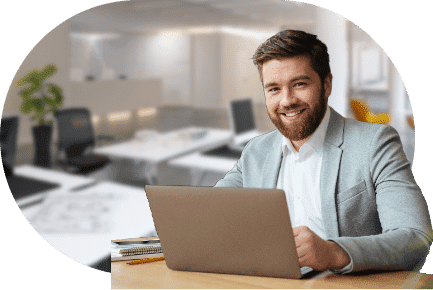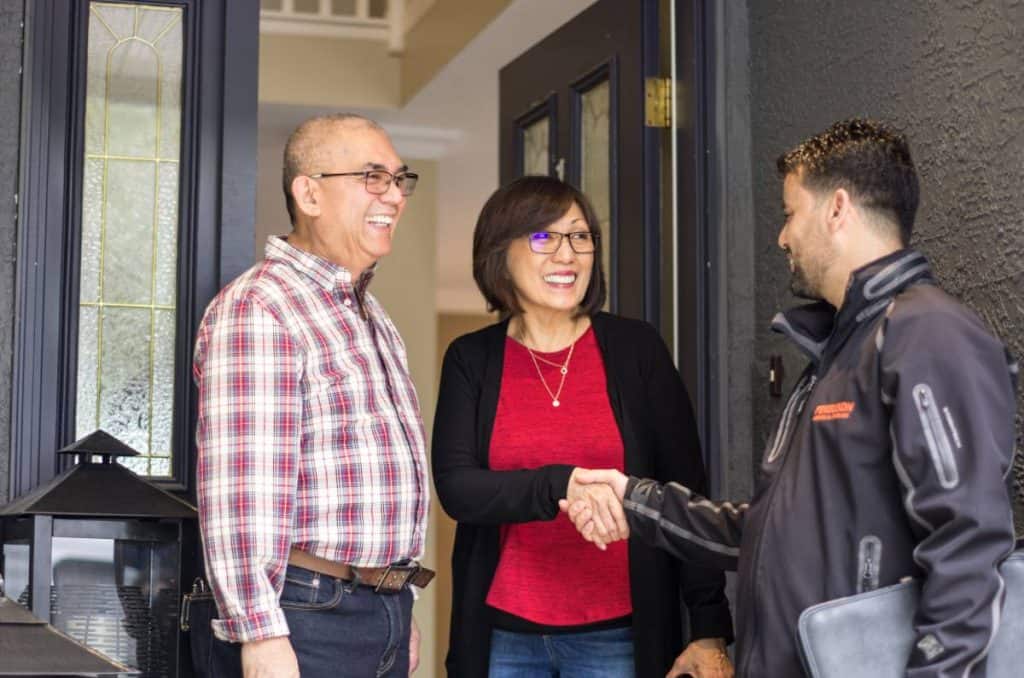 Dedicated VIP Move Manager
Your personal, experienced VIP Move Manager will answer your every question, and be directly available to you as your single point of contact at Ferguson Moving and Storage. Together with your Move Manager you are consulted on your needs and a custom move plan is drawn up. Plus, you will have your Manager's direct number, so you always get the VIP treatment you deserve.
Moving days can be stressful days. We strive to take the stress out of every move. We understand you may have time sensitive move-out and move-in deadlines for occupancy, elevator lock off and parking. In order to ensure everything happens according to your move plan we guarantee on-time arrival.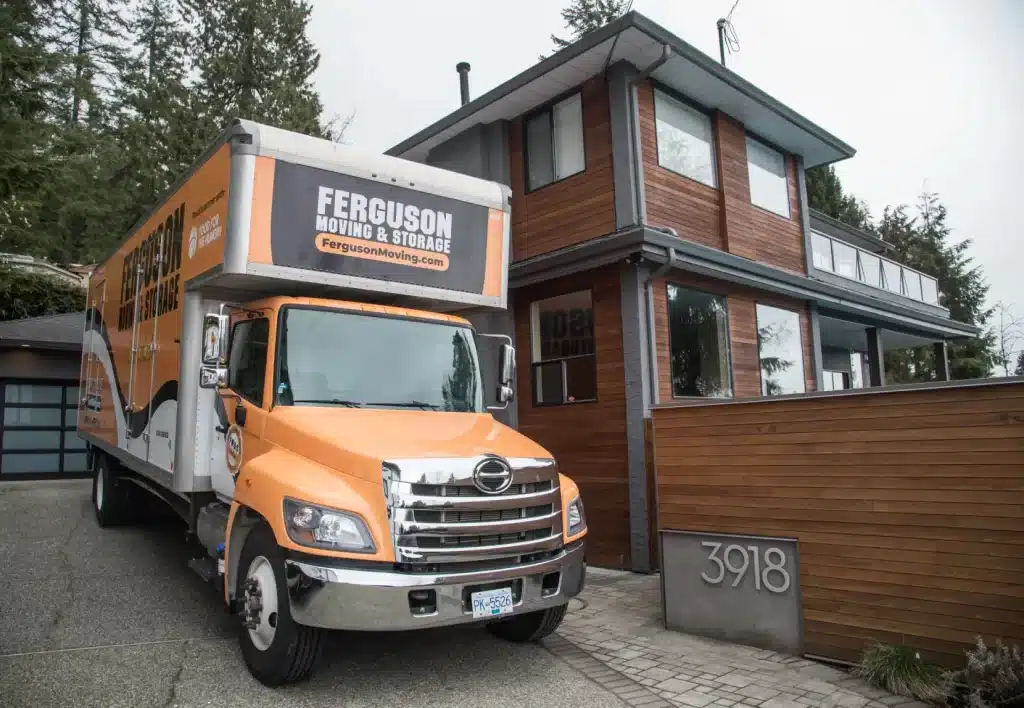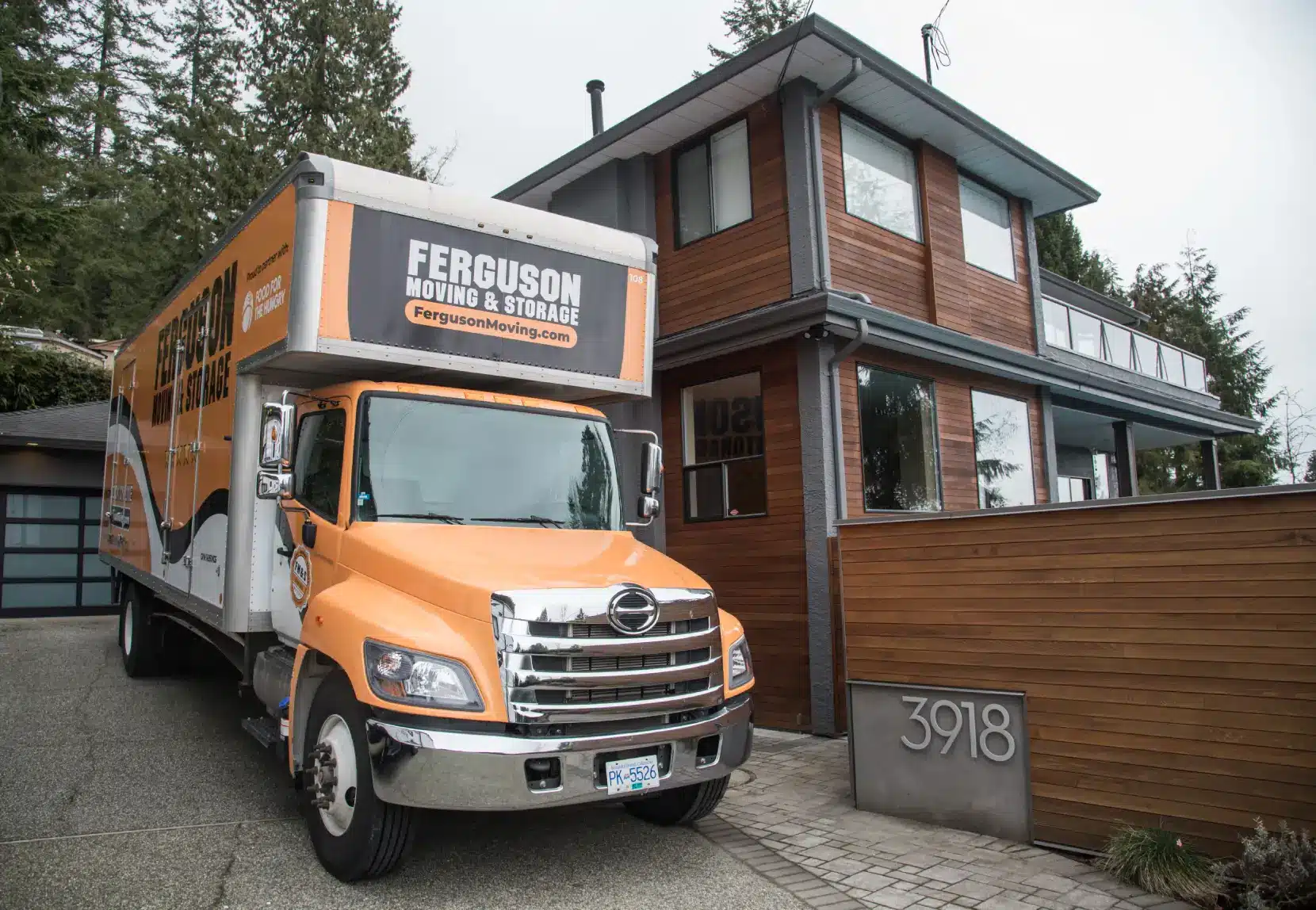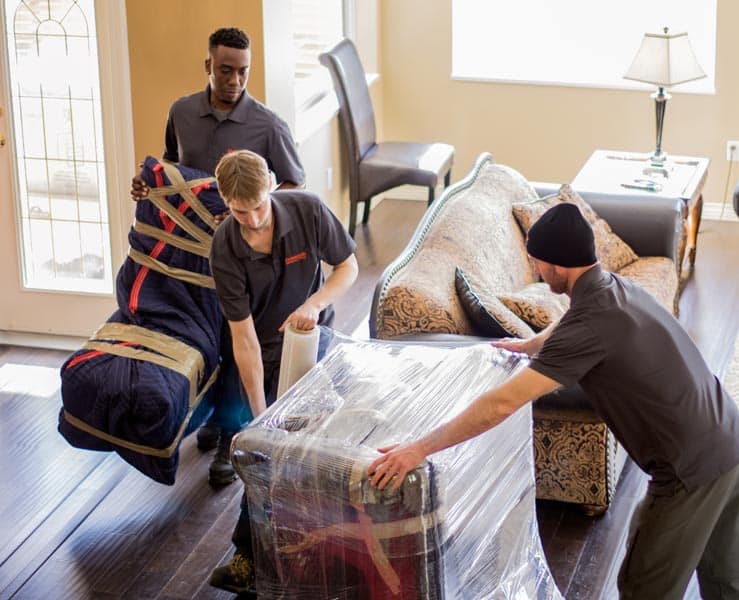 In-Home Blanket Wrapping Of All Furniture
Your move team will carefully wrap every piece of your furniture with special padded moving blankets and securely tape the blankets, so they do not fall off during the move. We do this in your house to guarantees your home's walls, doorways and furniture are properly protected.
5. Leave the tough work to us...
Disassembly And Reassembly Of All Your Furniture
Unlike other moving companies, we do not feel it is right to charge you extra for something you'll want and need on your move day. That's why, we are the home of the all-inclusive move. We want you to get settled into your new home quickly and get a good night's sleep. That why, we disassemble and reassemble all the furniture as necessary.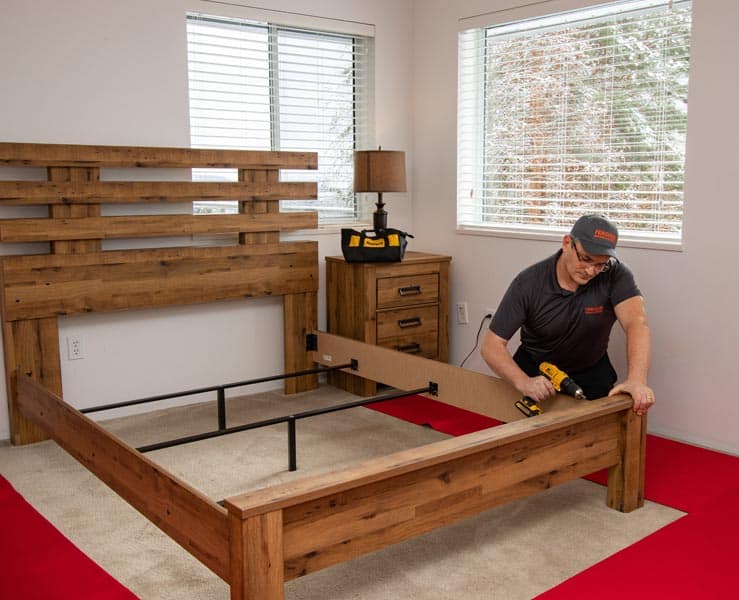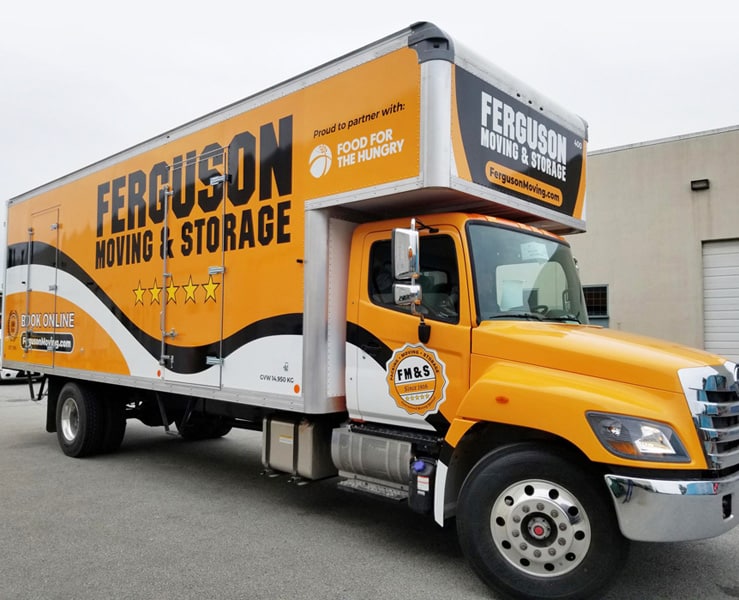 6. Hygiene is our priority ...
Clean And Well-Maintained Trucks
We only use our trucks for moving. Some companies rent out their trucks for hauling junk. We never do that. Our trucks are just used for moving our client's furniture and belongings. Consequently, we can guarantee that our trucks are clean, reliable, and well-maintained.
Certified, Professional Moving Team Leader
At Fergsuon, we take pride in our team. We select only the best local movers, so you can be 100% confident that only professional, clean and uniformed staff set foot in your home. Everyone must pass our certification program, in order to ensure they are trained to provide the high level of quality we require.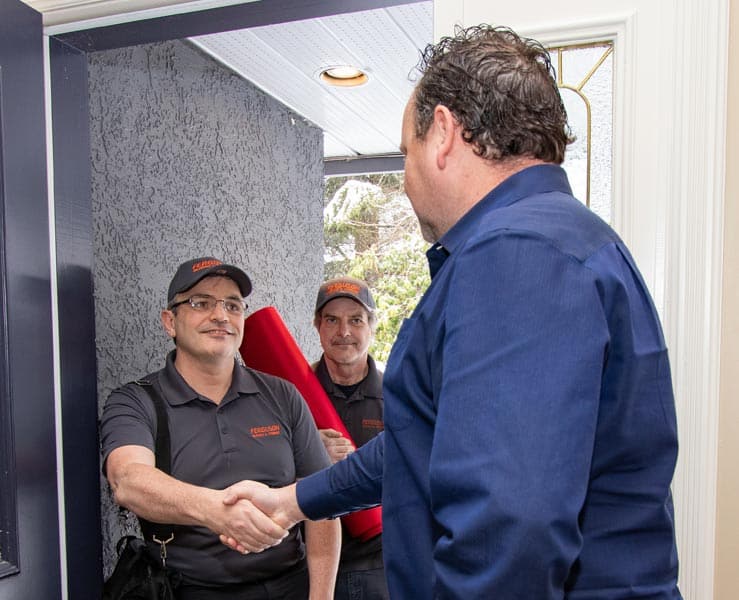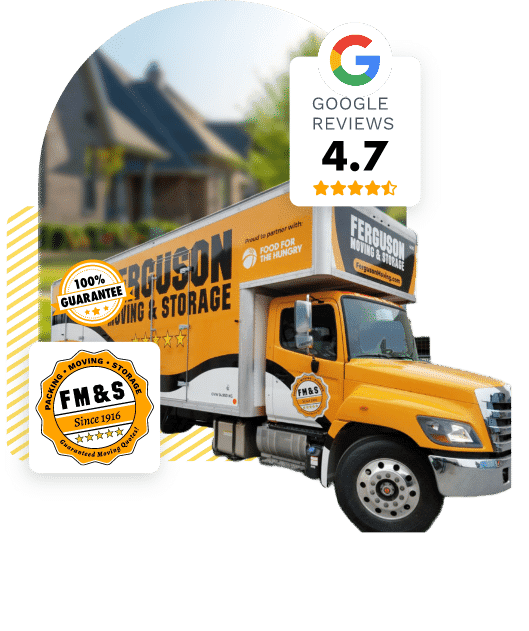 Let's Get Started With a
Free Quote!
See Why Clients
Love

Ferguson
Absolutely great customer service from this company. They're on the more expensive side but well worth it. They take extra care, wrapped everything very carefully, were fast and efficient. Would definitely hire them again for our next move.
Thanks so much to this two man team today for helping with the move! They were super efficient and great. All items were handled with care, and they helped with wrapping things up too. The assistance with disassembling the furniture was a plus!! Will definitely be using Ferguson for any future moves and storage 🙂
Jeremy Nazaruk
2023-11-25
Great and professional crew. Would use Ferguson in the future and would recommend to anyone.
We hired Ferguson Moving and Storage to help us move out of an apartment, store our belongings and move into a house. Tim was great during the move out, he was a very hard worker and very pleasant and polite. Ivan and Jamal assisted us with the move in to the house, and even though their truck could not make it up the steep driveway they still put in the extra effort to ensure a smooth process. Lorne was a pleasure to deal with and very professional and accommodating, even though we had multiple last minute changes in scheduling. All in all a very positive experience, would hire again without a doubt.
Excellent service!!
Sarah Jegodtka
2023-11-20
Amazing group of Movers! Fast, very efficient and very pleasant to work with.
Zachary Kyra-Derksen
2023-11-19
We can't say enough good things about our experience with Ferguson moving. I contacted 5 moving companies and Ferguson was the first to get back to me. The man on the phone efficiently scheduled a consultation with their move manager, Quinn. He very professionally and warmly went through our home to tally our belongings and gave us a quote on the spot. Quinn couldn't have made it any easier for us! On moving day we received excellent care and professional service from Sofiane, Lucas, Tim, Dylan, Stephen, and Tony. They worked very efficiently and took great care to not damage our belongings or home. This included several large glass sculptures and many paintings. Couldn't be happier with their work! We wouldn't hesitate to hire Ferguson Moving again. Highly recommended! - Zach and Suzanne
Vano and Josh were so nice friendly and incredibly professional. They didn't leave one scrap of garbage behind and they wrapped everything beautifully to make sure everything arrived safely.
Frequently Asked
Moving

Questions
Q: How Do I get An Estimate For Moving?
A: To estimate your move we encourage you to fill out our Online Estimate Form.  Alternatively – and at any time of your communicating with us – you can give us a Call. We will visit you to evaluate the amount of inventory and packing work needed. This visit is FREE of charge and is part of our total service package.
If you are outside of Greater Vancouver Area, we will speak with you in detail over the phone – and have an an affiliate in your area perform a survey where possible.
All the information on your inventory and other important details are necessary to provide you with the estimate.
Q: How To Select The Right Mover?
A: A reputable, good mover should have an established place of business, license and insurance. It is not wise to use a mover who is new to the business.
They may not know what they're doing, or they may be a fly-by-night who were doing business under another name last month and will be doing business yet another name next month, staying one step ahead of the law. You want a mover who has been in business for a while, and who knows the business.
You should ask your mover to supply you with a few references. A satisfied customer is the best sales tool for a mover.
Q: Can Clothes And Other Items Be Left Inside The Furniture During The Move?
A:We recommend that all clothes and items be removed from inside the furniture. This includes all desks, dressers, armoires…etc. This makes the furniture much lighter and easier to move. It also limits wear and tear to your furniture during the move.
Generally the only items of furniture that can be safely moved with items still in them are small light pieces of furniture containing very light belongings inside (sweaters, shirts, blouses, lingerie).
Be careful NOT to leave fragile items and anything that might spill or leak.
Q: Do I Tip The Movers?
A: Like all other service businesses, tipping is not required. If you choose to, a tip is appreciated for a job well done.
Q: Do You Charge Extra For Moving Large Items Such As Pianos?
A:Ferguson Moving & Storage has no additional charges for moving pianos.
Piano moves and any other extraordinarily heavy furniture are all charged the same way that regular moves are charged.
We have professional piano movers that have years of piano moving experience.
Q: What Happens If It Rains, Snows Or The Weather Is Bad?
A:We at Ferguson Moving & Storage will always honor our moving commitments regardless of weather. Unpredictable weather might slow down the job but weather is unavoidable.
If your move occurs on a day where the weather is acting up our movers will take precautions to protect floors and carpeting from excess dirt and soil.
Q: Do The Movers Supply Cartons?
A: If you have chosen to pack your own belongings and have hired us just to move you, there is a chance that some items still need to be packed.
Usually a lampshade, glass shelves or a lamp stand. Most drivers carry a small assortment of boxes and materials to pack the contents of your home. These boxes are not free. Ferguson Moving & Storage provides boxes. However, if you want to pack your belongings before the move, you can order some packing materials here.
We do not recommend getting boxes from your local liquor/grocery store. These boxes are often flimsy and many times carry insects because foodstuffs surround them. Also, it costs more in labour to move them because the movers need to make more trips back and forth to the truck.
Always use double corrugated boxes, not single. The stronger your boxes, the better chance your goods have surviving any mishaps, should they occur.
Q: When Is The Best Time To Move?
A: If there is a choice, most moving companies suggest you avoid the summer, beginning or end of the month or winter holidays. The heaviest demands are placed on vans, equipment and personnel during these periods.
However, you should move when it's most convenient for you. Factors involved in the decision may include:
Whether the move must be made immediately.
Transferring children during the school term.
Separation of the family while the move is under way.
If the move can be scheduled for a time when vans and trained personnel are most readily available, we'll be better equipped to meet your preferred delivery schedule.
Q: Can I Pack My China, Glass & Crystal?
A: Most people prefer to have their household possessions, especially fragile items, professionally packed by a moving company. However, if you decide to pack these items yourself, remember that the basic principles of good packing include wrapping the items individually, providing plenty of cushioning and making sure of a firm pack.
Be sure to select a sturdy container with a lid. Place a 2 or 3 inch layer of crushed paper on the bottom of the carton as a cushion. Wrap each item individually with a soft material to provide a safe, protective "padded nest." Pack the heaviest items on the bottom, empty ones next, filling in empty spaces with crushed paper. Place plates on edge and glassware on rims for maximum protection.
Mark the carton "Fragile" and list the contents on the outside. Be sure to seal the carton with tape.
Cartons, paper, tape and other packing materials may be purchased here for a very modest cost.
Q: Can Ferguson's Move My Plants?
A: Ferguson Moving & Storage cannot accept responsibility for safely moving your plants because they may suffer from a lack of water and light as well as probable temperature changes while in the van. You may prefer to transport your house plants in the family car.
Q: Can Ferguson's Move My Pets?
A: Pets cannot be carried on the moving van. Dogs, cats, canaries and parakeets can usually be transported in the family car.
Q: Can I Move Jewelry And Other Valuables?
A: We strongly recommend that you carry irreplaceable and expensive articles with you, or make other arrangements for their transport.
Q: How And When Should I Pay?
A: Tariff provisions require that all charges be paid before your shipment is unloaded at destination (unless prior arrangements have been made for later billing).
Payment for your move can be made by one of the following methods: Cash Visa, Mastercard or Certified Cheque may be used.
Q: When Should I Call A Moving Company?
A: The earlier, the better. Although the actual van assignments may not be made until a few days before your move, it's wise to give your moving company from 4 to 6 weeks notice, if possible. The more lead time you can give, the more likely we will be able to meet your delivery schedule.
All moving companies usually require alternate pickup and delivery dates. We'll do our best, of course, to comply with the dates you prefer or the nearest possible alternative. You will be notified in advance of the loading date of your goods and of the estimated date of arrival.
If your pickup and delivery dates are critical due to such factors as lease expiration or a real estate closing, you may choose a preferred service which will enable us to accommodate a reasonable schedule based on your specific needs.
You should discuss your specific pickup and delivery requirements with your relocation counselor, who can advise you of the types and costs of services available.
Q: What Items Are Not Allowed To Move? Hazardous Goods
A: Before your possessions are packed and loaded, it is important that you understand which items cannot be shipped because they represent a hazard or are perishable.
Listed below are some common non-allowable items that you will need to address prior to your pack and load dates:
HAZARDOUS MATERIALS – items that are flammable, corrosive or explosive.
Hazardous materials are non-transportable items. Hazardous materials can include, but are not limited to, explosives, compressed gases, flammable liquids and solids, oxidizers, poisons, corrosives and radioactive materials.
Common examples of hazardous materials include:

Gasoline
Propane Cylinders
Paints and Paint Thinners
Lighter fluid
Nail Polish Remover
Fireworks
Oxygen Bottles
Automotive Repair and Maintenance Chemicals and Solvents
Radio-Pharmaceuticals
Matches

Miscellaneous items that are non-transportable include:

Firearms
Perishable Food and Food Stored in Glass Jars and Containers
Prescription Drugs (specifically, those that may be needed immediately and should be within reach)

Personal or Irreplaceable Belongings. Bring these items with you in your car or carry them on your persons during the move.

Cash
Collections (stamp collections, coin collections, cards, etc.)
Family Photos
Important Personal Papers (i.e., deeds, wills, passport, birth certificates, etc.)
Negotiable Papers (i.e., bonds, stocks, certificates)
Jewelry
Moving Documents (bill of lading, rights and responsibilities, etc.)
Before packing up your home, separate these non-transportable items from the rest of your household goods to be packed. Not only are these items dangerous to your movers and their safety, but they are also items that are easily purchased at your new location. For those high-value or personal items, these often cannot be replaced at all, so it's important to keep these items with you. Use these tips on non-transportable items and benefit from a safe, more organized move.