Enlist the team at Ferguson Moving and Storage to do the work for you. Complete packing and unpacking at both ends of delivery is just one of many services available to Ferguson clients. Your moving crew is trained to handle the items in your home with the utmost respect through the entire moving process. Based on the consultation with your move manager, the team puts your things together to keep them safe and in the most efficient order when it comes time to unpack.
Packing Services
Packing services can include:
complimentary furniture wrapping, in blanket and plastic
moving boxes packed, sealed, and labeled by hand
crate packing fragile materials like marble, glass, and ceramic
heated container storage in the climate-controlled Ferguson Moving and Storage warehouse
Unpacking Services
Unpacking services can include:
complimentary furniture unwrapping and placing
moving box unpacking to specification
moving material collection and removal (e.g. boxes, pads, wrapping, etc.)
full container storage unit unpacking and installation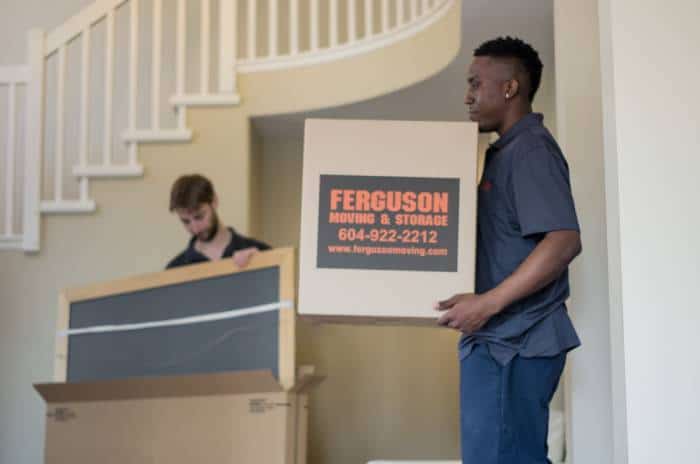 The Ferguson Moving Experience
During your free in-home moving consultation, your Ferguson rep will walk you through what the weeks and days leading up to the move will look like, and what information they will require to deliver the signature Ferguson moving experience. Those conversations include what items you wish to have packed for you and which you wish to pack yourself. You can also refer to Ferguson's moving tips for best practices around delicate, expensive, or heirloom items.
Tracking & Storage
Ferguson movers use an innovative inventory tagging system to organize boxes and furniture by room to ensure accessibility through the move and accurate unpacking at the destination.
Heated container storage at Ferguson's climate-controlled warehouse provides safe and secure storage for all of your belongings, whether they are awaiting long distance transport or needing a home between closing and moving day.
Moving Boxes
Moving boxes can be ordered through your Ferguson rep and delivered ahead of time, picked up at the Ferguson main office in North Vancouver, or brought along on moving day by your moving crew to be packed. 
The Ferguson Move Advantage
You should never pay extra if your move takes longer than planned. With no hourly rates and service that goes above and beyond, Ferguson lifts your expectations for what a moving company can do.
Guaranteed peace of mind before, during, and after your move. 
Materials Available for Purchase
| ITEM | DIMENSIONS | PRICE |
| --- | --- | --- |
| 2 Cubic Foot Box | 18"L x 15"W x 12.h"H | $3.25 |
| 4 Cubic Foot Box | 18"L x 18"W x 21"H | $5.25 |
| 5 Cubic Foot Box | 17 ¾"L x 17 ¾"W x 28"H | $6.50 |
| Dish Pack Box | 17 ¾"L x 17 ¾"W x 28" H | $10.50 |
| Small Mirror Box | 40"L x 27 ½"W x 4"D | $6.75 |
| Large Mirror Box | 48"L x 33 ½"W x 4 ½"D | $9.75 |
| Wardrobe Box and Crossbar | 24"L x 24" W x 48"H | $19.95 |
| | | |
| Packing Tape | each | $2.50 |
| Small Packing Paper | 10lb | $15.50 |
| Large Packing Paper | 25lb | $37.50 |
| Bubble Wrap | per foot | $1.50/ft |
| Mattress Bags | Single/Queen/King | $10.00 |
*Used Materials are Available based on inventory at a 30% discount*
Material Kits Available for Purchase
Studio / Loft Kit
$114.55
10 x 2
Cubes
5 x 4
Cubes
2
Rolls of Tape
1
Tape Gun
10lbs
of Paper
1
Black Marker
2
Single Mattress Bags
1
Wardrobe Carton
One Bedroom Kit
$185.50
10 x 2
Cubes
15 x 4
Cubes
3
Rolls of Tape
1
Tape Gun
15ft
Bubble Wrap
10lbs
Packing Paper
1
Black Marker
2
Queen Mattress Bags
2
Wardrobe Cartons
Two Bedroom Kit
$325.50
20 x 2
Cubes
30 x 4
Cubes
6
Rolls of Tape
1
Tape Gun
30ft
Bubble Wrap
20lbs
Packing Paper
1
Black Marker
4
Queen Mattress Bags
3
Wardrobe Cartons
Three Bedroom Kit
$725.00
40 x 2
Cubes
50 x 4
Cubes
3
Small Picture Frame Boxes
2
Large Picture Frame Boxes
8
Rolls of Tape
2
Tape Gun
60ft
Bubble Wrap
50lbs
Packing Paper
2
Black Marker
4
Queen Mattress Bags
2
Single Mattress Bags
6
Wardrobe Cartons
Four Bedroom Kit
$1075.00
60 x 2
Cubes
80 x 4
Cubes
5
Small Picture Frame Boxes
5
Large Picture Frame Boxes
10
Rolls of Tape
2
Tape Gun
100ft
Bubble Wrap
80lbs
Packing Paper
2
Black Marker
4
Queen Mattress Bags
2
Single Mattress Bags
8
Wardrobe Cartons
Experience the Ferguson Moving difference
You deserve an elevated moving experience.
What sets Ferguson moving crews apart is the way they have been trained. The standard for their crews has been raised with extensive practical training that not just encourages but insists upon smart and safe moving techniques. New crew members participate in real-world mock moves that test their agility around tight corners and on steep stairs to protect their cargo and themselves. The basics like lifting with two hands get lots of attention to build healthy habits. Further practice around larger items and furniture then instil the skills and instincts to be careful but efficient, and to reduce risk of damage or injury. 
Building crew confidence to arrive at every job prepared for everything allows you to relax knowing they have the skills and knowledge to create a seamless transition to your new space. You are Ferguson movers' number one priority, and you will receive the full service moving experience you deserve.
Do you have any questions?