Movers in Richmond, BC
2080 Van Dyke Place
Richmond, BC
V6V 1X9
Call: 1-833-WE-MOVE-YOU (936-6839)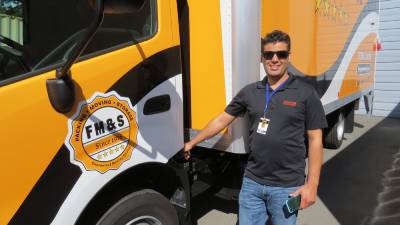 The Longest-Serving Movers in Richmond
Ferguson Moving and Storage has been serving consumers in the lower mainland for over a century, and there are numerous franchise outlets to opt from. Our reputation for exceeding customers' expectations stems from the way we've always done business and therefore are the best movers in Richmond, BC. We treat every client like royalty and provide the world-class service they deserve and expect every step of the way.
Ferguson has pulled experienced moving experts from the lower mainland since the founding of the business because the experts know the area better than anybody and understand the high expectations that the prospective clients have for their moving company in Richmond. We have a thorough understanding of our clientele and what they have come to expect from their movers in Richmond because of our community roots.
Ferguson Moving and Storage in Richmond, BC, is managed by Greg Amzil. Greg and his Richmond movers are passionate about their profession, and it shows when they provide top-notch customer service as well as upfront and honest pricing right from the beginning.

Ferguson Moving and Storage is one of Richmond's most renowned movers, having received numerous awards for its industry-leading customer service.

For a full list of awards and reviews, go over to HomeStars.com, and then call Greg for a free moving estimate!
The Most-Trusted Moving Company You'll Ever Meet in Richmond
The Better Business Bureau has given Ferguson Moving and Storage an A+ rating, recognizing its ethical business practices, years of service to the Richmond region, and extraordinarily positive client experience. When you book with us, you can take comfort in knowing that the following 7 Guarantees are in place:
#1: Upfront, All-Inclusive Moving Quote
#2: Your Personal VIP Move Manager
#3: On-Time Arrival
#4: A Clean & Well-Maintained Truck
#5: A Certified, Professional Moving Team Leader
#6: In-Home Blanket Wrapping Of All Your Furniture
#7: Disassembly & Reassembly Of All Your Furniture That Needs It
What is the process behind it?
After obtaining your free quote by contacting 1-833-WE-MOVE-YOU (936-6839), you will be visited by the move manager, who will also walk you through our comprehensive service list. It will help you assess all our services and choose the best suitable one for you. Our moving company in Richmond provides various alternatives like local and international moving services, home and local moves, major item relocation, commercial moves like office moves and hotel installation.
Request a free quote online or call
1-833-WE-MOVE-YOU (936-6839) and experience Ferguson's award-winning customer service for yourself.
Quotes available for:
Long-distance moves to and from Richmond
House moves
Apartment moves
Large item and piano moving
…and more!
Long Distance Moving Services in Richmond
We're with you no matter where in the region or cross country! We at Ferguson have a long history of providing quality service to our customers. We know that moving can be stressful, which is why we're here to help you every step of the way. We have a variety of moving services, so you can choose what best suits your needs. So, whether you are leaving or coming to Richmond, we're here to help!
We have also partnered with the Great Canadian Van Line to provide our customers with quality cross-country moving services. Plus, you will also benefit from our Great Canadian's logistical support and infrastructure. From packing to delivery, we have you covered!
Heated Storage Container in Richmond
The storage warehouse by the Ferguson Moving and Storage is air-conditioned and offers plenty of space for your belongings all year. So, whether you require storing as part of a moving or need a temporary storage arrangement, look no further than our secured temperature-controlled facility for storage in Richmond. You can trust us to protect your belongings from the heat and humidity in the summer and the cold in the winter.
Have queries regarding Ferguson's storage services in Richmond? Call us at 1-833-WE-MOVE-YOU (936-6839) today!
Reviews on Our Moving Services in Richmond
Approximately 70% of Ferguson Moving and Storage customers are repeat customers or were suggested by family members and friends. See the feedback they've given regarding their movers in Richmond.
The Advantage of Choosing Ferguson
When you choose Ferguson, you will never have to worry about your move taking longer than expected. Unlike hourly moving companies, we do not charge by the hour, so you will not have to worry about paying more if your move takes a little longer than planned. This peace of mind is just one of the many benefits of choosing Ferguson for your next move.
From start to finish, you will be amazed at the level of service that we provide.
Office Moving Services in Richmond
When it comes time to move your office, you need reliable and experienced movers in Richmond to handle the job quickly and efficiently. We understand that every business is unique, so we take the time to listen to your requirements and create a customized plan that meets your needs. Our services include office moving, larger equipment moving, and the other non-residential moves that are treated with the same professionalism and care. You may visit our office moves page to get a general idea about our services in Richmond, Canada, and internationally.
Richmond is a city located in the Commonwealth of Virginia. The city is the capital of the state, as well as its largest city. The city was founded in 1607 by English colonists and is one of the oldest cities in the United States. Richmond served as the capital of the Confederacy during the American Civil War and is home to numerous historical sites related to the Confederacy and the Civil War. The city is also home to numerous higher education institutions, including Virginia Commonwealth University, the University of Richmond, and Randolph-Macon College.
Richmond's economy is largely based on its role as a regional centre for culture and finance. The city is home to many major corporations and financial institutions, including the Fortune 500 company and bank. Richmond also serves as a major transportation hub, with a large port on the James River and a major international airport. The city's economy is also bolstered by its tourism industry, which is fueled by its history and numerous attractions, including the Virginia State Capitol, Hollywood Cemetery, and Museum of the Confederacy.
Richmond is a diverse and vibrant city with a rich history and a bright future. The city offers something for everyone, from history buffs to college students to business people. It is considered a safe city to live in, with low crime rates and high levels of education and income. Thus, it is no surprise that Richmond is one of the fastest-growing cities in the United States. Richmond is a great choice if you're looking for a city with a lot to offer.