Moving Company in Surrey, BC
The Longest-Serving Movers in Surrey
We at Ferguson Moving and Storage believe that every client deserves to enjoy their experience with us, which is why we put the customer first. Our 100-year history in Surrey has earned us a stellar reputation for consistently achieving satisfied customers who will never forget what they receive from one of the most reliable moving companies in Surrey.
Our movers are highly experienced and will take care of all your belongings, ensuring they reach your new home in the same condition as they were in your old one. We have a wide range of services to choose from, so we have you covered whether you are moving locally or long distance. Moreover, our workforce is from the lower mainland and know the area well, so they can help you plan your move and make sure everything goes as smoothly as possible. We guarantee that you won't be disappointed with our moving and storage services!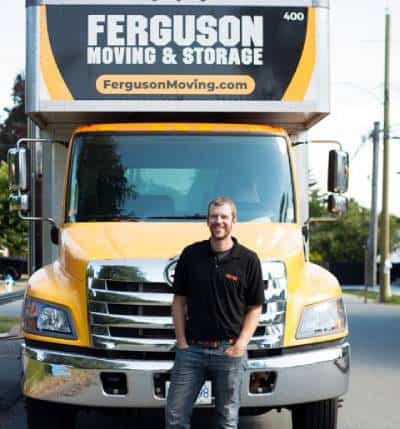 The Most-Reliable Moving Company You'll Ever Meet in Surrey
Our ethical business practices, years of service to the Surrey region, and extremely favourable customer feedback have earned Ferguson Moving and Storage an A+ rating from the Better Business Bureau.
Ferguson Moving and Storage provides the following 7 Guarantees when you arrange moving service in Surrey with us:
#1: Upfront, All-Inclusive Moving Quote
#2: Your Personal VIP Move Manager
#3: On-Time Arrival
#4: A Clean & Well-Maintained Truck
#5: A Certified, Professional Moving Team Leader
#6: In-Home Blanket Wrapping Of All Your Furniture
#7: Disassembly & Reassembly Of All Your Furniture That Needs It
To get a free estimate today, call 1-833-WE-MOVE-YOU (936-6839). A move manager from Ferguson Moving and Storage will visit you and give you a quotation. The expert will also present you with an opportunity to explore our whole service list. Our services include local and international moves, residential and commercial moves, and storage for both short-term and long-term needs.
Request a free quote online or call
1-833-WE-MOVE-YOU (936-6839) and experience Ferguson's award-winning customer service for yourself.
 
 
Quotes available for:
…and more!
Long Distance Moving Services in Surrey
Do you need to cover a lot of ground? Ferguson Moving and Storage will be there for you at every turn. Leverage from our ties with Great Canadian Van Lines and Great Canadian, who provide logistical services across Canada. You can count on the very same degree of seamless move and customer service that Ferguson Moving and Storage is known for, no matter where you're going.
Heated Storage Container in Surrey
The Ferguson's storage warehouse in Surrey is temperature-controlled and has air conditioning, which means your items will be safe all year round. Whether you require storage as a part of moving or are looking for a short-term storage alternative, we have you covered. Plus, we offer a range of packing and moving services to make the process as easy as possible for you.
For more information about our storage services, call us today at 1-833-WE-MOVE-YOU (936-6839).
Approximately 70% of our customers return or are recommended by friends and family. Take a look at the feedback they've given regarding our service in Surrey.
The Advantage of Choosing Ferguson
When you need to move, it's important that the process is seamless and stress-free. You need not worry about hourly rates or service charges when the time extends outside of your original moving plan. We at Ferguson understand this, which is why we offer a range of flexible moving services to accommodate your needs.
When you work with Ferguson, you can relax and focus on your other tasks, knowing that we have everything under control.
Office Moving Services in Surrey
If you're looking for a reliable and professional office move in Surrey, Ferguson is the company for you. We have years of experience in the industry, and our team of experts will make sure your move goes as smoothly as possible. We can handle office moves of any size in Surrey, Canada and even internationally. You may visit our office moves page for more information.
Surrey is located in the province of British Columbia, Canada, and it is the second-largest city in British Columbia. It is situated south of the Fraser River and east of the city of Vancouver. Surrey is a diverse and multicultural city, and it is home to a large number of immigrants. It is a major centre for business, culture, and tourism in British Columbia. The city has many attractions, including the Surrey Arts Centre, the Fraser Valley Nature Park, and the Surrey Museum.
The city is also home to a number of major businesses and industries. The Surrey Board of Trade is the largest business association in the city, and it represents over 1,600 businesses. The city is also a major transportation hub in British Columbia, and it is home to the busiest transportation interchange in the province. Plus, the city is the terminus for the SkyTrain, Canada's longest and busiest light rail system.
Surrey is home to people from all walks of life and offers a wide range of activities and attractions for residents and visitors alike. Whether you're looking for a place to raise a family or retire, Surrey is a great choice. It has something for everyone, from its bustling city centre to its quiet suburban neighbourhoods. Surrey is also a great place to do business, with a thriving economy and plenty of opportunities for growth. If you're looking for a new home in British Columbia, Surrey should definitely be on your list.