Ferguson Moving at Victoria, British Columbia
FREE MOVING QUOTE
No Credit Card Required
Long Standing Movers in Canada
Ferguson Moving and Storage has been operating in Canada for over a century, from its founding to the present day. Our flagship operations began on the North Shore of Vancouver in 1916. Since then we have expanded into other Canadian metropolitan area markets with the intention of providing great service and hiring local teams to provide employment.
Whether you are moving down the street or to a new city, Ferguson Moving and Storage can help. We have the experience and knowledge to handle your move efficiently and professionally and we know the importance of a timely move.
Our reputation for quality and excellence is based on our experience and the high standards we maintain. Plus, our exceptional customer service means that you will be comfortable throughout the entire process, from beginning to end. So, if you are looking for a reliable and professional moving company, Ferguson Moving and Storage is a perfect choice.
The Only Moving Company You'll Ever Need in Victoria and Southern Vancouver Island
Ferguson Moving and Storage prides itself on our 7 Guarantees. This is what we promise when you arrange a move with us. Whether you are needing packing, storage or moving we guarantee:
#1: Upfront, All-Inclusive Moving Quote
#2: Your Personal VIP Move Manager
#3: On-Time Arrival
#4: A Clean & Well-Maintained Truck
#5: A Certified, Professional Moving Team Leader
#6: In-Home Blanket Wrapping Of All Your Furniture
#7: Disassembly & Reassembly Of All Your Furniture That Needs It
You can schedule a time for one of our move managers to prepare your quote on the spot. They will help paint the picture of what moving day will look like for you and every estimate is detailed with a breakdown of each expense. Our mission is to ensure that there are no surprises on your moving day.
Request a free quote online or call
1-833-WE-MOVE-YOU (936-6839) and experience Ferguson's award-winning customer service for yourself.
Quotes available for: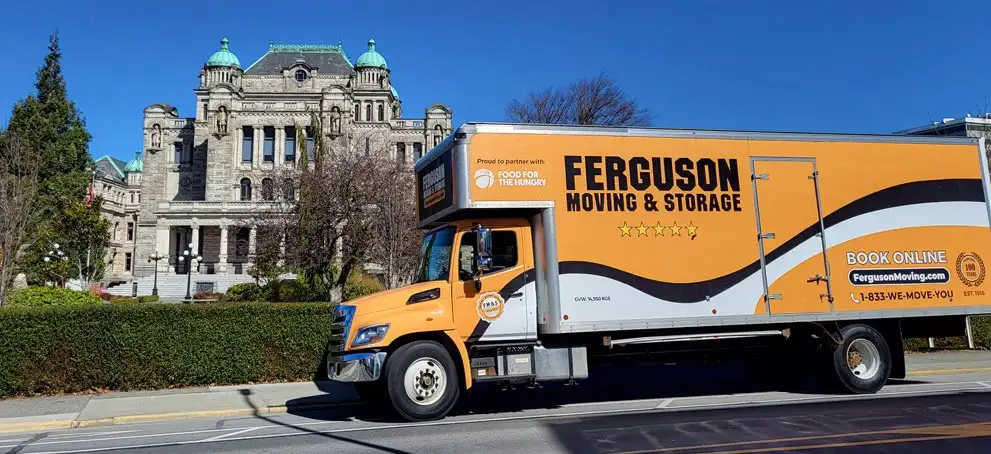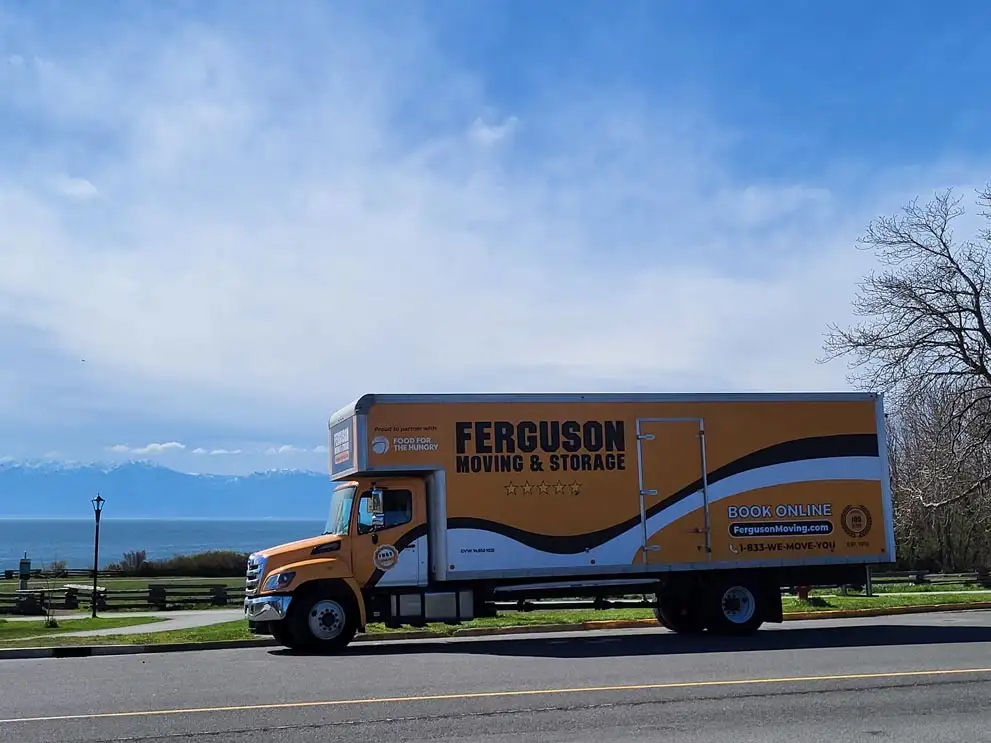 Long Distance Moving Services on Vancouver Island
We go cross-country with the same level of professionalism and attention to detail as we do locally. Whether you're relocating to Vancouver Island or leaving the area, you can count on the Ferguson Moving team's complete assistance throughout your move. We understand that every client's needs are different, so we work closely with you to create a plan that meets your specific requirements.
We have teamed up with Great Canadian Van Lines for long-distance moves. In addition to the great service that comes standard with long-distance movers, you'll benefit from Great Canadian's logistical support and infrastructure. It means you'll enjoy all the benefits of the team, with the added peace of mind that comes with knowing your belongings are in good hands. It's a match made in heaven!
Climate-Controlled Container in Langford
Ferguson Moving and Storge's storage warehouse is situated in Langford. We are ready to pack, store, and deliver your belongings with precision and care. Whether you are looking for short-term storage or longer we are flexible with your dates.
To learn more about Ferguson Moving and Storage's storage service, call 1-833-WE-MOVE-YOU (936-6839).
Nearly 70% of Ferguson Moving and Storage's clientele are repeat customers or have been referred by friends and relatives.
Take a look at the reviews they've given regarding their moves on Google.
The Advantage of Choosing Ferguson
If your move takes longer than expected, you must never pay extra. Ferguson surpasses your expectations for what a moving company can do by not charging hourly rates and providing service that goes beyond the call of duty.
You can always count on Ferguson to give you the best price and service possible.
Office Moving Services
We understand that a commercial move can be stressful and time-consuming, so we take care of everything for you, allowing you to focus on your business. We have the resources and experience to handle your move efficiently, including office moves, heavy equipment moves, and even non-residential moving services.
We look forward to helping your business relocate with ease!
Welcome to Victoria, the charming capital city of British Columbia, Canada. Situated on the southern tip of Vancouver Island, Victoria is known for its rich history, stunning natural beauty, and vibrant cultural scene.
Victoria's picturesque Inner Harbour serves as a focal point, with its iconic Parliament Buildings, historic Fairmont Empress Hotel, and bustling waterfront. Explore the charming streets lined with boutique shops, art galleries, and enticing restaurants.
The city is also renowned for its beautiful gardens, including the world-famous Butchart Gardens, where you can immerse yourself in a symphony of colors and fragrances. Enjoy a leisurely walk through Beacon Hill Park or venture out to the nearby hiking trails and beaches.
Victoria's vibrant arts and culture scene is showcased in its museums, theaters, and galleries. Visit the Royal BC Museum to delve into the province's history, catch a performance at the Royal Theatre, or admire contemporary artwork at the Art Gallery of Greater Victoria.
With its mild climate, welcoming community, and a myriad of attractions, Victoria is a delightful destination for residents and visitors alike. Experience the charm and elegance of this coastal city, where old-world sophistication meets natural beauty.